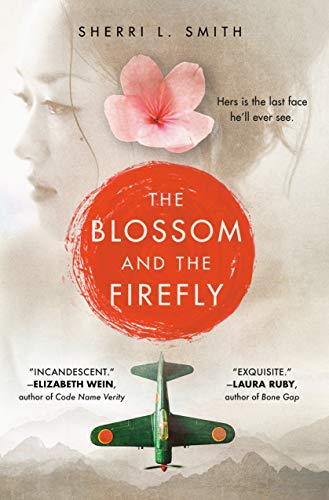 Publisher's Note:
Japan 1945. Taro is a talented violinist and a kamikaze pilot in the days before his first and only mission. He believes he is ready to die for his country . . . until he meets Hana. Hana hasn't been the same since the day she was buried alive in a collapsed trench during a bomb raid. She wonders if it would have been better to have died that day . . . until she meets Taro.

A song will bring them together. The war will tear them apart. Is it possible to live an entire lifetime in eight short days?
This book was sent to Compass Book Ratings for review by Penguin
The Blossom and the Firefly
by Sherri L. Smith
Overall Review:
"Attachment leads to suffering, Oka-san said. But perhaps that is the price of joy"
The Blossom and the Firefly is a beautiful, heart-breaking tale set in the final months of World War II. This well-written historical fiction switches between two narrators -- Hana and Taro. Each teen offers unique perspectives. Taro narrates his preparations to give his life for his country while Hana describes helping on the home front. Based on actual events, Sherri L. Smith finds a way to show kamikaze in a humanizing yet dutiful and authentic way. Readers will find themselves immersed in Japanese culture, equally captivated with Smith's gorgeous metaphors, allegories and themes. The Blossom and the Firefly's pacing varies in speed, but this novel is entertaining, educational and has glimpses of love, hope, and romance during a tragic period of time.
Review of an Advance Reading Copy
Content Analysis:
Profanity/Language: 2 mild obscenities; 1 derogatory name.
Violence/Gore: Thoughts about hurting someone; characters watch a cartoon about war; secondhand report of being punched and/or hit for breaking rules; mention of being beaten; characters are hit or slapped during training; several mentions of kamikaze, body-crashing; report of a murder/suicide; shot at during battle and crashes in sea; characters are slapped for not body-crashing; preparation for suicide crashes during battle including planning and writing death poems, mention of sanctioned "rape, murder and torture".
Sex/Nudity: Sexual references; mention of visits to brothels for 'comfort girls'.
Mature Subject Matter:
World War II, training and lots of talk about kamikaze (suicide or 'body-crashing'), war crimes and criminal trials, post-traumatic stress from being bombed and trapped in a collapsed trench, death of family members, verbal abuse, Pearl Harbor, bombings and battle.
Alcohol / Drug Use:
Underage characters drink sake; a man drinks too much; characters get drunk; talk of beer and sake; a mention of smoking and picking up cigarettes.
Reviewed By Rachel