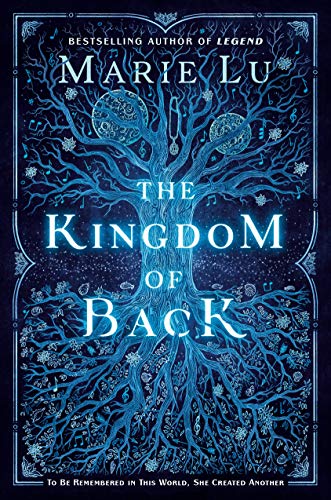 Publisher's Note:
Two siblings. Two brilliant talents. But only one Mozart.

Born with a gift for music, Nannerl Mozart has just one wish--to be remembered forever. But even as she delights audiences with her masterful playing, she has little hope she'll ever become the acclaimed composer she longs to be. She is a young woman in 18th century Europe, and that means composing is forbidden to her. She will perform only until she reaches a marriageable age--her tyrannical father has made that much clear.

And as Nannerl's hope grows dimmer with each passing year, the talents of her beloved younger brother, Wolfgang, only seem to shine brighter. His brilliance begins to eclipse her own, until one day a mysterious stranger from a magical land appears with an irresistible offer. He has the power to make her wish come true--but his help may cost her everything.
This book was sent to Compass Book Ratings for review by G.P. Putnam's Sons Books for Young Readers
The Kingdom of Back
by Marie Lu
Overall Review:
The Kingdom of Back by Marie Lu is a mash-up of historical fiction and fantasy. Lu is a young adult author of fantasy and dystopian novels so it was interesting to see her try her hand at the historical fiction angle; not all authors are successful at jumping genres. She did particularly well, especially in tone and voice, which is where many fail when dipping a toe in the historical fiction pool, as they can't shake the modern dialogue and vibe. But wait, plot twist, as revealed in the author's ending note, The Kingdom of Back is actually one of her first novels, begun twelve years ago and only finished now. So maybe she really is a historical fiction author who is has been successful in transitioning to dystopian fiction instead?
Regardless of its origin or timeline, The Kingdom of Back was a fresh and satisfying read. The fantasy woven into the historical background was consistent enough to work and contained the right amount of confusion and mystery to keep the reader hooked. A charming and deadly fantasy world (complete with map!) of the Mozart siblings making lives in shadow to their real world. Add Nannerl's internal conflict as she strains against the role of women in society and music and longs to let her voice be heard, and you have a multi-faceted story.
This book spans many years beginning with Nannerl at age eight and concluding when she is sixteen. This isn't a book that rips along at a blazing pace, but there was consistent tension. This was probably a factor of the measured pacing. Not only does the novel span genres, but it also spans demographic groups--feeling in many ways like a middle grade book in the beginning and more like a young adult book towards the end.
Thank you, Ms. Lu for giving us something innovative.
Review of an Advance Reading Copy
Content Analysis:
Profanity/Language: None
Violence/Gore: Finger is pricked by thorn and bleeds; character looks down from a height and sees armies marching, women at the gallows, blood on ship decks; suspenseful scene where character is pursued; character is told to shoot a monster (she does not); character shoots and kills a monster with an arrow, mention of blood, brief scene; brief scene where character cuts through magical thorns that injure her; a few, separate scary scenes whether characters see wraiths and shadows, hear sounds; skeletal-type creature chases a character; fantasy character/creature devours a girl, blood on his teeth; character considers what it would be like if their sibling were to disappear; father slaps daughter; fire destroys/kills fantasy character/creature.
Sex/Nudity: Little boys jests and says he will marry a little girl and kisses her; male places hand on a teenage girls back; kiss; a teenage girl blushes at attention from a teenage boy; a girl's periods begin; general comment about a woman that she will "make the best children".
Mature Subject Matter:
Death; illness; smallpox; economic hardship; societal and period discrimination against women; women's roles.
Alcohol / Drug Use:
None
Reviewed By Cindy