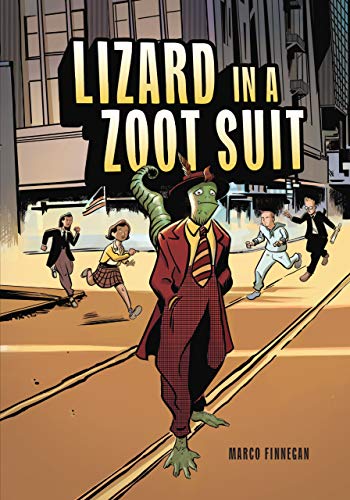 Publisher's Note:
Los Angeles, 1943. It's the era of the Zoot Suit Riots, and Flaca and Cuata have a problem. It's bigger than being grounded by their strict mother. It's bigger than tensions with the soldiers stationed nearby. And it's shaped like a five-foot-tall lizard. When a lost member of an unknown underground species needs help, the sisters must scramble to keep their new friend away from a corrupt military scientist?but they'll do it in style. Cartoonist Marco Finnegan presents Lizard in a Zoot Suit, an outrageous, historical, sci-fi graphic novel.
This book was sent to Compass Book Ratings for review by Graphic Universe
Lizard In a Zoot Suit
by Marco Finnegan
Overall Review:
I've lately been reading a rash of graphic novels or what many would term comic books. And while some have rehashed the same old superhero story lines over and over, this one didn't. It captivated my interest from the first pane and what I thought was going to be just a few pages of reading turned into my devouring the book in one sitting.
First, this is a new story. Or at least a new take on an old story. The book is based on the Zoot Suit Riots of 1943. And as much as I am a history buff and love World War II era literature, I have never heard of these riots. I was appreciative that at the end of the book the author included a couple page synopsis of what these riots were, what the motivation was, and what the eventual outcome ended up as. This would definitely make a great read and discuss book for classrooms and book clubs.
Also unique to this book was the tri-color illustration. The pictures are done in white, black and yellow only. And while you might think that repetition of colors would get old quickly, I was amazed at how the combination of colors was used to highlight certain parts of the illustration or to draw your eye to a certain area or facet.
Overall, this was a great read and I would love to see this author take on more little known historical periods. I think it is a great way to introduce history without being overly wordy and opens the historical genre to a whole new subset of readers.
Content Analysis:
Profanity/Language: 1 religious exclamation, 3 mild obscenities, 6 derogatory names (these were words used to refer to a specific race in a derogatory way).
Violence/Gore: Punch to face; two multi-page fights with minor injuries and a blown-up car; kidnapping, threat with a gun.
Sex/Nudity: Comment about skirt length made by man.
Mature Subject Matter:
Racial conflict; war.
Alcohol / Drug Use:
None
Reviewed By Beckie