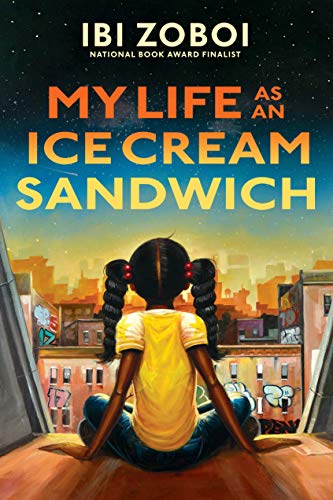 Publisher's Note:
National Book Award-finalist Ibi Zoboi makes her middle-grade debut with a moving story of a girl finding her place in a world that's changing at warp speed.

Twelve-year-old Ebony-Grace Norfleet has lived with her beloved grandfather Jeremiah in Huntsville, Alabama ever since she was little. As one of the first black engineers to integrate NASA, Jeremiah has nurtured Ebony-Grace's love for all things outer space and science fiction—especially Star Wars and Star Trek. But in the summer of 1984, when trouble arises with Jeremiah, it's decided she'll spend a few weeks with her father in Harlem.

Harlem is an exciting and terrifying place for a sheltered girl from Hunstville, and Ebony-Grace's first instinct is to retreat into her imagination. But soon 126th Street begins to reveal that it has more in common with her beloved sci-fi adventures than she ever thought possible, and by summer's end, Ebony-Grace discovers that Harlem has a place for a girl whose eyes are always on the stars.
A New York Times Bestseller
This book was sent to Compass Book Ratings for review by Dutton Books for Young Readers
My Life as an Ice Cream Sandwich
by Ibi Zoboi
Overall Review:
My Life as an Ice Cream Sandwich is historical fiction set in Harlem in 1984, a setting one doesn't see a lot of page-time in middle grade historical fiction. It has a diverse set of characters from Puerto Rican to African American. It has a very unusual protagonist: Ebony-Grace Norfleet who goes around 99% of the time as Space Cadet E-Grace Starfleet. And therein lies the problem...both for the protagonist and for the book.
Everyone in the book thinks Ebony is weird because she is always acting erratically and talking gibberish about space-stuff. As a reader, I kept waiting for a reveal that she had some kind of diagnosis like Asperger's that would explain her bizarre behavior. There is no explanation for her behavior other than she lives in a fantasy land created by her and her grandfather. This made it extremely difficult to understand her, to connect with her as a character, and to even like her at times. The ending was slightly depressing, a little preachy, and Ebony's newfound self-awareness came on a bit abruptly in the last handful of pages.
There are many references to 80's pop culture: movies, music, fashion, etc. Hopefully, an older middle grade reader can pick up on these and navigate them to get a sense of the setting. In fact, the star of the book really is Harlem, and the author seems to be really shining a light on the setting. This book is recommended for slightly older middle grade readers, as it isn't a page-turner and takes a patient reader to navigate.
Review of an Advance Reading Copy
Content Analysis:
Profanity/Language: 1 religious exclamation; 1 derogatory name.
Violence/Gore: Girl falls and receives minor injury; report that someone was killed by police; report of death of a family member; character upon several occasions imagines and/or pretends she is shooting lasers; two men (brothers) have a brief fist fight resulting in injuries (broken jaw), blood mentioned.
Sex/Nudity: Girl sees man leaving his bedroom a woman who is suggestively dressed (implied prostitute); girl sees man later enter his bedroom with a different woman suggestively dressed; woman (implied prostitute based on her dress and actions) asks a man if he will be her daddy; innuendo; several vague references to a girl's grandfather having had affairs which have now resulted in him being in a difficult position; a few vague sexual references; man jokes about planet Uranus w/ sexual innuendo.
Mature Subject Matter:
Bullying, infidelity, poverty, economic disparity, divorce.
Alcohol / Drug Use:
Adults smoke; implied that people are drug addicts; people say that other people or on drugs and not to give them money.
Reviewed By Cindy