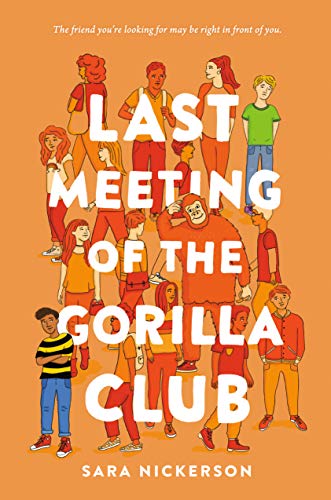 Publisher's Note:
A moving new middle grade novel about childhood anxiety and grief, from the author of The Secrets of Blueberries, Brothers, Moose, and Me.

Eleven-year-old Josh Duncan has never had much luck making friends--not the real kind, anyway. Moving to a new town is supposed to be a chance to leave behind the problems that plagued Josh at his last school. Problems like Big Brother, Josh's favorite and best friend. Because, as Josh's parents tell him, he's too old to still have imaginary friends.
But even before the first day of school is over, Big Brother reappears--and he's not alone. Only this time one of Josh's imaginary friends seems to be interacting with another boy at school, Lucas Hernandez. Can Lucas see them, too?

Brought together by an unusual classroom experiment and a mysterious invitation to join something called the Gorilla Club, Josh and Lucas are about to discover how a unique way of seeing the world can reveal a real-life friend.
This book was sent to Compass Book Ratings for review by Dutton Books for Young Readers
Last Meeting of the Gorilla Club
by Sara Nickerson
Overall Review:
I began Last Meeting of the Gorilla Club thinking it would be a book similar to many others; light read, little substance. Boy, was I wrong. Sara Nickerson focuses on many social issues facing children such as anxiety, difficulties of giving things up as you get older, trying to fit in, or being "normal" to name a few. The way she addresses these things is captivating and you'll feel as if you've been immersed in the novel. The story will likely make you wonder (as it did me) who around you struggles with distinguishing between reality and what's just in their mind. It's probably more than we would guess. This is a great book for tweens to check out to help them read about others who they can relate to and also possibly to help them see that those around them may be struggling with difficulties and need friends to help them feel accepted and understood. Some things that occur toward the end of the book had me curious about what type of characters Nickerson was creating, whether they were supposed to be imaginary friends or possibly ghost-like characters. That was probably by design, to add to the intrigue of the story. I can't think of anyone who wouldn't enjoy or benefit from reading this novel so I highly recommend it to anyone over the age of 10 (might be a little scary for younger audiences).
Review of an Advance Reader's Copy
Content Analysis:
Profanity/Language: None
Violence/Gore: Several (14) brief incidents including character says his mom's going to kill him (won't really); something happens to character and it feels like a dagger to the heart (simile); reference to young characters dying from accidents; second-hand report of a baby dying from a birth defect; reference to erupting volcano killing people; reference to an adult dying from accident; reference to an elderly character dying; character falls and hurts ankle; character faints; young characters fighting but didn't really get hurt; characters getting scratched by squirrels; character hurts ankle from falling; character stuck in closet with a fire.
Sex/Nudity: Two brief incidents including non-sexual reference to a young character standing in a locker room in underwear; an implication of a teenage character liking another.
Mature Subject Matter:
Death.
Alcohol / Drug Use:
None
Reviewed By Jenny