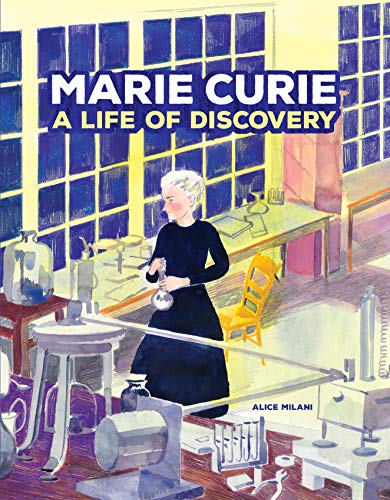 Publisher's Note:
In her intensely researched, inventively drawn exploration of Marie Curie's life, artist Alice Milani follows the celebrated Polish scientist from Curie's time as a struggling governess to her years in France making breakthrough discoveries. Curie was the first woman to win a Nobel Prize and the only person to win a Nobel Prize in two different sciences. With skill and care, Milani traces Curie's flight from Russia-controlled Poland, her romance with fellow scientist Pierre Curie, and Marie and Pierre's stunning discoveries of the elements radium and polonium. Throughout this distinctive graphic work, Curie defies doubt and double standards to make an enduring impact on the scientific world.
This book was sent to Compass Book Ratings for review by Graphic Universe
Marie Curie: A Life of Discovery
by Alice Milani
Overall Review:
If you don't read graphic novels often, there is a bit of a learning curve to it (i.e. where do you start reading, where do you go from there, and who is speaking/thinking when there isn't a speech bubble). However, if you're a frequent reader of graphic novels, Marie Curie: A Life of Discovery will likely be an easy, enjoyable read for you. The biography was a bit tricky to follow at times but that could be due to this reviewer's lack of familiarity with the writing style of graphic novels. You'll also find that some of the ambiguity will be clarified when you get closer to the end and reflect on the overall story. There are times when the pictures and colors are meant to tell the story rather than words so it felt somewhat abstract (left to interpretation) but also artistic. Getting to learn more about the life and experiences of Marie Curie in a less traditional but entertaining way was refreshing. Reluctant readers and graphic novel experts will enjoy Marie Curie A Life of Discovery.
Content Analysis:
Profanity/Language: 3 religious exclamations; 3 mild obscenities.
Violence/Gore: Few (4) brief incidents including a second-hand report of a character dying; a character gets sick; young child hurt while parents are fighting; character killed in an accident.
Sex/Nudity: Few (4) brief incidents including flirting; character joking about seeing up a girl's skirt; a character has a mistress; references to character having many mistresses.
Mature Subject Matter:
Infidelity; death.
Alcohol / Drug Use:
Adults smoke; adult characters drinking at a party.
Reviewed By Jenny