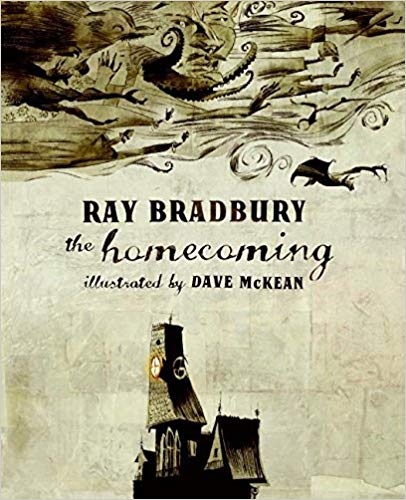 Publisher's Note:
Illustrated classics for adults! Here, Collins Design's WISP series pairs two legendary creators–writer Ray Bradbury and artist Dave McKean–to create an irresistible package perfect for Halloween and all year 'round.
The WISP series (Wonderfully Illustrated Short Pieces) represents an ingenious marriage of two creative forces: the artistry of today's foremost illustrators and the literary legacy of beloved authors of popular short works for adults. The resulting offspring of this union are captivating, full–color illustrated editions of timeless classics that readers will want to savor and collect.
For the first time ever, the series makes selected popular short works previously offered only in collections available in a unique, stand–alone format. Also for the first time, WISPs harness the talents of top illustrators for the benefit and delight of a new, older audience.
This WISP presents Ray Bradbury's The Homecoming, a little boy's tale of his family reunion of vampires. This story was initially published in 1946 and later refashioned into further stories. Bringing this story to life are the wondrous illustrations of Dave McKean, whose delightful artwork perfectly matches the tale.
The Homecoming
by Ray Bradbury
Overall Review:
The Homecoming, by Ray Bradbury, beautifully weaves together a lyrical writing style and a tale of longing. Bradbury uses a fantasy story about monsters to convey a feeling that is quite human--the desire to belong. The protagonist of the story, a young boy, waits eagerly for an expected family reunion. Much like all young children who have anticipated a large family reunion, he looks forward excitedly to the festivities and to finding out what his extended family are really like. The story is a brief one, but the author packs the few pages with colorful, unique characters and descriptive settings that feel immersive to the reader. The descriptions are further enhanced by the skillful art of the illustrator, Dave McKean. This story is a hauntingly memorable tale where the characters in the story, being vampires, can't see their reflections, but the reader may very well see aspects of their humanity reflected in the tale.
Content Analysis:
Profanity/Language: 4 mild obscenities.
Violence/Gore: It is implied that characters drink blood, though this is not explicitly stated; a character drowns in mud; a character bites someone; report of a character shot with arrows.
Sex/Nudity: An illustration shows characters dancing with their arms around each other, and one couple is kissing.
Mature Subject Matter:
None
Alcohol / Drug Use:
Characters drink wine; a character in an illustration is smoking a cigarette.
Reviewed By Calinda