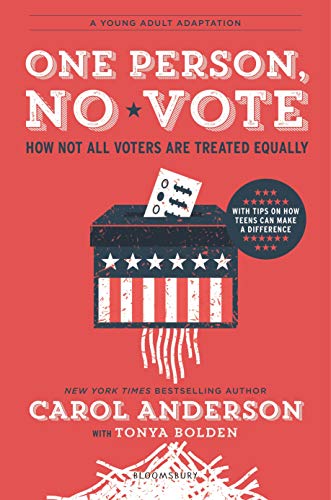 Publisher's Note:
In her New York Times bestseller White Rage, Carol Anderson laid bare an insidious history of policies that have systematically impeded black progress in America, from 1865 to our combustible present. With One Person, No Vote, she chronicles a related history: the rollbacks to African American participation in the vote since the 2013 Supreme Court decision that eviscerated the Voting Rights Act of 1965. Known as the Shelby ruling, this decision effectively allowed districts with a demonstrated history of racial discrimination to change voting requirements without approval from the Department of Justice.
Focusing on the aftermath of Shelby, Anderson follows the astonishing story of government-dictated racial discrimination unfolding before our very eyes as more and more states adopt voter suppression laws. In gripping, enlightening detail she explains how voter suppression works, from photo ID requirements to gerrymandering to poll closures. And with vivid characters, she explores the resistance: the organizing, activism, and court battles to restore the basic right to vote to all Americans as the nation gears up for the 2020 presidential election season.
This book was sent to Compass Book Ratings for review by Bloomsbury YA
One Person, No Vote
by Carol Anderson
Overall Review:
One Person, No Vote should be required reading for every American citizen. With an engaging style and simply laid out facts, Anderson and Bolden reveal the appalling details of one facet of a democracy in crisis.
In addition to new (for most readers) information, there is a good deal of historical framework to help readers understand the long history of voter suppression in the U.S. The authors provide anecdotes, statistical evidence, and expert testimonials in a well-rounded, thoroughly researched book.
While the content is quite readable and easy to follow, the political ins and outs may be challenging for younger children. For high school youth, the discussion guide is another avenue to increase accessibility. Notes include URLs that allow readers to seek out additional research.
As a high school teacher, the reviewer immediately reserved several copies to use in her classroom. The fight for civil rights is far from over, and our nation's youth need to be made aware. This reader casts an enthusiastic ballot for One Person, No Vote.
Content Analysis:
Profanity/Language: 2 religious exclamations; 2 mild obscenities.
Violence/Gore: Mention of historical acts of violence with no detail; a person is shot and left to die with mention of bleeding; in general historical references, harassment and persecution, including some violence, are promoted (3 times); the events of "Bloody Sunday" in 1965 Selma, Alabama are summarized in some detail; report of a person being beaten; historical account of a person being beaten and thrown into a river; mention of murder; the events of the famous 1961 attack on Freedom Riders are recounted with some gore; rape is mentioned as a crime; a boxing metaphor is used.
Sex/Nudity: A person is accused of sexual assault and pedophilia with no details.
Mature Subject Matter:
Poverty, racism, fraud, political machinations.
Alcohol / Drug Use:
None
Reviewed By Leslie