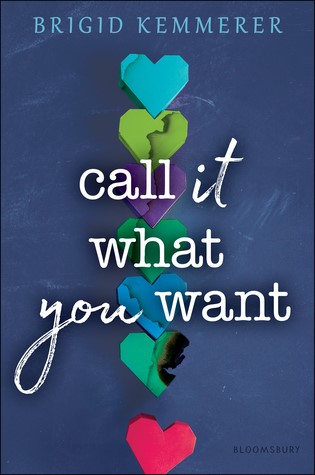 Publisher's Note:
Acclaimed author Brigid Kemmerer pens a new emotionally compelling story about two teens struggling in the space between right and wrong.
When his dad is caught embezzling funds from half the town, Rob goes from popular lacrosse player to social pariah. Even worse, his father's failed suicide attempt leaves Rob and his mother responsible for his care.
Everyone thinks of Maegan as a typical overachiever, but she has a secret of her own after the pressure got to her last year. And when her sister comes home from college pregnant, keeping it from her parents might be more than she can handle.
When Rob and Maegan are paired together for a calculus project, they're both reluctant to let anyone through the walls they've built. But when Maegan learns of Rob's plan to fix the damage caused by his father, it could ruin more than their fragile new friendship . . .
In her compulsively readable storytelling, Brigid Kemmerer pens another captivating, heartfelt novel that asks the question: Is it okay to do something wrong for the right reasons?
This book was sent to Compass Book Ratings for review by Bloomsbury Children's Books
Call It What You Want
by Brigid Kemmerer
Overall Review:
If you're looking for a page-turning read that is just too addictive to put down, then Call It What You Want should quickly make its way to the top of your reading pile.
I always feel a little trepidation when an author I am familiar with comes out with a new book that it outside the genre they are known for. After all, most of the time, the lack of familiarity and differences in style are pretty glaring. This is not one of those times. I know Brigid Kemmerer for her amazing fantasy books like A Curse So Dark and Lonely. So when I picked this one up to read I was a bit skeptical about how she would write more of a romance/drama type of book. My fears were quickly put to rest.
Let's start with the characters in this book. Rob is a pretty normal high school boy. Anyone picking up the book can probably relate to his boyish good looks, athletic prowess, etc. But his dad committed a crime and his fall from popularity has been swift and harsh. Maegan is that girl. You know, the one who gets straight A's, always does the right thing…until she doesn't. But now a school project has tossed them together--and not willingly--and they're starting to realize that there is a lot more going on with the people they see than meets the eye. These characters are so relatable and so realistic. They aren't all teen angsty and over the top but are well-developed and have depth to keep the story interesting.
The subject matter is a little weighty, but mature younger readers probably could handle without much worry. The plot flows really well, and you'll eat up pages before you know it. What I thought would be a pickup-put down book quickly become a can't put it down until the last page tale. While there are morals of right and wrong woven throughout the book, they don't come across as preachy, but more in a "make you take a second think" way. I think this plays well to the intended audience.
While I am waiting on pins and needles for her next fantasy release, this divergence was worth the read and I would recommend to anyone looking to lose themselves for a little while.
Review of an Advance Reading Copy
Content Analysis:
Profanity/Language: 19 religious exclamations; 42 mild obscenities; 4 derogatory names; 17 scatological words; 28 anatomical terms; 1 offensive hand gesture; 2 f-word derivatives.
Violence/Gore: Multiple references to suicide attempt of family member; recall of ATV crash resulting in broken bones; fall down stairs with no injuries; two smacks to back of head; two slaps to face; punch to face; punches and kicks to teenager's body; recall of car accident with death of family member; father chokes teenage son.
Sex/Nudity: Five kisses; four hand-holdings; 2 hugs; reference to same sex couple; arms around neck; two instances of hands on waist; two instances of hands under shirt on chest; 2-page steamy make out session.
Mature Subject Matter:
Socioeconomic and racial conflict, death, attempted suicide, abortion, unwanted pregnancy, divorce, bankruptcy, infidelity, ethics, stealing, embezzlement.
Alcohol / Drug Use:
Teens and adults drink alcohol.
Reviewed By Beckie