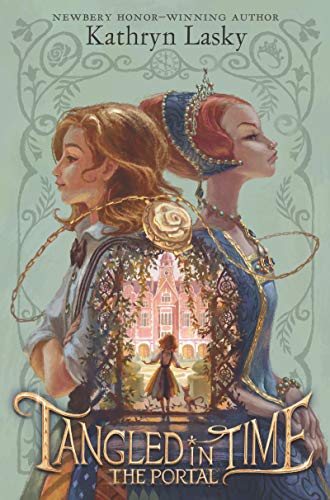 Publisher's Note:
Life used to be great for Rose: full of friends, a loving mom, and a growing fashion blog.
But when her mother dies in a car crash, Rose is sent away to live with a strange grandmother she hardly knows and forced to attend a new school where mean girls ridicule her at every turn.
The only place Rose finds refuge is in her grandmother's greenhouse. But one night she sees a strange light glowing from within it. She goes to investigate...and finds herself transported back five hundred years to Hatfield Palace, where she becomes servant and confidant of the banished princess Elizabeth, daughter of King Henry VIII.
Rose soon discovers something else amazing—a locket with two mysterious images inside it, both clues to her own past. Could the greenhouse portal offer answers to the mysteries of her family...and their secrets?
Tangled in Time: The Portal
by Kathryn Lasky
Overall Review:
Forced to leave her home because of the death of her mother, Rose faces a grandmother she doesn't know, a new home, and a new school. Hoping for the best but expecting the worst, off she goes to school and encounters two things which impact her life in big ways. The first is a group of mean girls. Bullies are never fun and these ones seem to be mean just because they can. The second is a group of three kids who become her friends and help her ward off the fiendish and nefarious mean girls. Myles and his friends stand by Rose and encourage her while she struggles through these hard times.
On top of so many new and perplexing things to deal with in her life, Rose now has a secret. Well, actually two BIG secrets. Rose's grandmother is battling dementia but she is most often herself in the greenhouse. That's where Rose gets to know her grandmother and learns to love horticulture, the art of garden cultivation, and as a side note, it's where she discovers time travel and the big secret about her dad. What better way to learn history than to go and see it in person, right!? Rose also has a love for sewing and repurposing clothing; she is quite inspirational. Inspired by clothing of the past, Rose takes a few ideas into the future and has a lot of fun using her sewing talents.
Kathryn Lasky, the author, has incorporated physical challenges like Cerebral Palsy, being a Little Person, having a malformed leg, and even dementia into the story line and doesn't want the reader to take pity on these people but rather to realize that they are essential to our lives and often can teach us "normal" people how to overcome hardship. Finding friends on both "sides" gives Rose hope and keeps her going in a time when she is feeling a bit lost and alone. They remind Rose of what true friendship looks like and inspires the reader to ask what exactly is normal? After all, we all have issues to deal with.
With perfect pacing, a variety of characters, a few history lessons, some people lessons, seeing what it means to "be yourself," and even standing up for others, this book would be a great read for people who want action and adventure. The story flows smoothly and by the end, I was hoping for more of Rose's story--to hear more of her brilliantly creative clothing ideas, more of her time with Grandmother, and more of Myles and the gang.
Kathryn Lasky has written at least 102 books that include the Guardians of Ga'hoole series, and about 33 picture books for young readers. The second book in this series, The Burning Queen, is scheduled to be published in October 2019.
Content Analysis:
Profanity/Language: 10 religious exclamations.
Violence/Gore: Mother dies in a car accident; mention of how mother died and pictures of burning car; 3 bullies at school send teen girl picture of her mother's burning car, not descriptive just emotional; mention of a historical queen who killed for religious purposes; teen girl wishes a horse would fall on a bully teen girl and kill her; mention of a historical woman's mother who was beheaded when the woman was a child, no details of the beheading; bully teen girl knocks down another teen while ice skating; mention of a man who died when he was crushed by stones; mention of a man who beheaded two of his wives; Ladies-in-Waiting play a game where they throw eggs at the head of a Little woman; a man dies of natural causes, not overly descriptive; teen girl purposely sabotaged a sporting device and a teen boy breaks a leg; rumor that a woman beats herself for religious purposes; rumor that a woman crawls across the floor bare-kneed in order to postulate herself; the young king dies, some description of his sickness.
Sex/Nudity: A story of a child born out of wedlock, non-sexual discussion.
Mature Subject Matter:
Bullying, disappearance of a parent, death of a parent, car accident, cast system in feudal England, time travel, Little People, dementia, a malformed leg, Cerebral Palsy, spies, sibling rivalry, child born out of wedlock.
Alcohol / Drug Use:
Mead is a common drink in Tudor England; it is well known that many will be drink by night time.
Reviewed By Beth