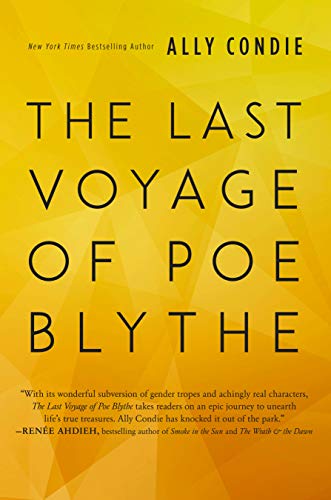 Publisher's Note:
Who do you become when you have nothing left to lose?

There is something Poe Blythe, the seventeen-year-old captain of the Outpost's last mining ship, wants far more than the gold they tear from the Serpentine River.

Revenge.

Poe has vowed to annihilate the river raiders who robbed her of everything two years ago. But as she navigates the treacherous waters of the Serpentine and realizes there might be a traitor among her crew, she must also reckon with who she has become, who she wants to be, and the ways love can change and shape you. Even—and especially—when you think all is lost.

Ally Condie, the international bestselling author of the Matched trilogy, returns with an intricately crafted and emotionally gripping story of one young woman's journey to move beyond the grief and anger that control her and find the inner strength to chart her own course.
This book was sent to Compass Book Ratings for review by Dutton Books for Young Readers
The Last Voyage of Poe Blythe
by Ally Condie
Overall Review:
Having loved The Matched Trilogy by Ally Condie, I was excited to check out her new book, The Last Voyage of Poe Blythe. Condie's latest addition lived up to the expectations set by her previous works. While the story was different from The Matched Trilogy, it was another engaging dystopian novel. Condie gives us another fantastic female protagonist, and you're never 100% sure if she's going to make the right choice. That keeps things interesting as we follow her on her journey. Additionally, several characters keep us guessing whose side they're on from the moment we meet them. As with most (if not all) dystopian stories, there are perilous conflicts after everyone has lost much and is willing to fight to ensure that it doesn't happen again. I'm unsure if there will be a sequel but the conclusion was left open to allow for it. Condie fans and those who enjoy a great dystopian will love The Last Voyage of Poe Blythe.
Review of an Advance Reader's Copy
Content Analysis:
Profanity/Language: 7 mild obscenities
Violence/Gore: Many (38) brief incidents including character would rather die than sit around; metaphor of a cat waiting to be gutted; character thinking of a way a pen or pencil could kill someone; character thinking about hurting another; character wanting to kill others; verbal threats; guns aimed at characters; second-hand reports of murder; reference to hunting; second-hand reports of characters getting non-life threatening injuries; references to parents of young children dying; reference to sawing through bone; character gets hurt on knee; character hits another in the face, knocking a tooth out; hitting and shooting at characters; character jumps off ship and others assume he is dead; ship blown up; character burns hand while setting village on fire and death of those in the village is implied; shooting and several characters killed.
Sex/Nudity: A few (8) brief incidents involving older teenagers including kissing; touching hand; references to hugging and kissing; arm around; character is interested in another.
Mature Subject Matter:
Dangerous working conditions; environmental issues; young children taken from family; murder.
Alcohol / Drug Use:
None
Reviewed By Jenny