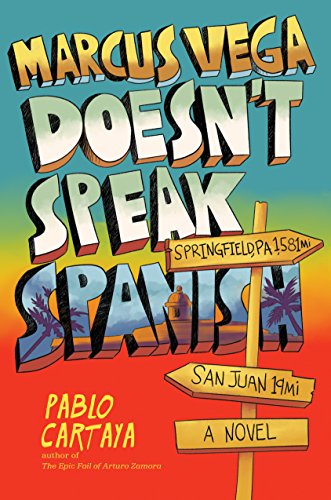 Publisher's Note:
One boy's search for his father leads him to Puerto Rico in this moving middle grade novel, for fans of Ghost and See You in the Cosmos.
Marcus Vega is six feet tall, 180 pounds, and the owner of a premature mustache. When you look like this and you're only in the eighth grade, you're both a threat and a target.
After a fight at school leaves Marcus facing suspension, Marcus's mom decides it's time for a change of environment. She takes Marcus and his younger brother to Puerto Rico to spend a week with relatives they don't remember or have never met. But Marcus can't focus knowing that his father--who walked out of their lives ten years ago--is somewhere on the island.
So begins Marcus's incredible journey, a series of misadventures that take him all over Puerto Rico in search of his elusive namesake. Marcus doesn't know if he'll ever find his father, but what he ultimately discovers changes his life. And he even learns a bit of Spanish along the way.
This book was sent to Compass Book Ratings for review by Viking Books for Young Readers
Marcus Vega Doesn't Speak Spanish
by Pablo Cartaya
Overall Review:
Marcus Vega may be one of my new favorite characters of the summer. He's a big kid. So big in fact, that kids at the school have started rumors he is the assistant principal. But Marcus has a problem. He reacted badly to a situation at school and it has sent his family into a little bit of a tailspin. By the landing, however, Marcus will discover who he is, just what matters the most to him, and that not everything that glitters is gold.
The characters in this book are so highly believable that I felt as though they were sitting right next to me on my couch. They speak with the same patterns as my own children, and I found myself wanting to scoop them up in a big hug and tell them everything was going to be okay. I especially loved the interplay between Marcus and his brother, Charlie, who has Down's syndrome. I loved how the author made Marcus protective of his brother and a friend, and how the focus was on the positive aspects of their relationship and not the many frustrations that come along with having a challenging diagnosis.
This book was highly readable. Young readers will be able to understand the vast majority of the book. The only areas that all readers may struggle with are those instances where Spanish is utilized and not directly translated. However, the lack of translation in some areas does not detract from overall story and readers shouldn't shy away from the novel for this reason.
The story is really one of self-discovery and you'll quickly find yourself at the end cheering for Marcus. I found myself smiling when Marcus confronts his father and explains exactly why his mother is his hero. With a little bit of humor spread throughout the book, even though a heavy subject of abandonment is dealt with, the book didn't feel heavy or overtly moralistic.
This is a great book for middle grade and younger high school age readers to add to their reading list. With vignettes and insight into the Puerto Rican culture its sure to be a fascinating read.
Content Analysis:
Profanity/Language: None
Violence/Gore: Boy punches another in the face; sick cow is killed with firearm (off page).
Sex/Nudity: None
Mature Subject Matter:
Divorce, abandonment.
Alcohol / Drug Use:
None
Reviewed By Beckie