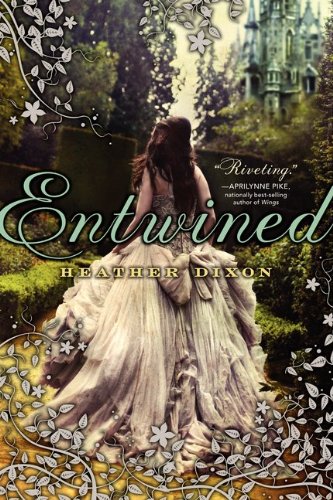 Publisher's Note:
Azalea is trapped. Just when she should feel that everything is before her . . . beautiful gowns, dashing suitors, balls filled with dancing . . . it's taken away. All of it.
The Keeper understands. He's trapped, too, held for centuries within the walls of the palace. And so he extends an invitation.
Every night, Azalea and her eleven sisters may step through the enchanted passage in their room to dance in his silver forest.
But there is a cost.
The Keeper likes to keep things.
Azalea may not realize how tangled she is in his web until it is too late.
Entwined
by Heather Dixon
Overall Review:
A terrific blend of humor, mystery, adventure, and romance, Entwined is a rich and beautiful retelling of the fairy tale "The Twelve Dancing Princesses." Heather Dixon's writing is simple and readable, and her characters are loveable and well-developed. I was pulled into the story after the first few pages and had a hard time putting the book down until I was finished! While there were a few things about this book that weren't quite perfect, it was still a lush, engrossing read with a terrifically satisfying ending. I especially enjoyed the way the theme of dancing was carried throughout the book. Highly recommended, particularly to anyone who enjoys fairy-tale retellings.
Content Analysis:
Profanity/Language:
***
Violence/Gore: Several references are made (with varying degrees of detail) throughout the book to a previous king who tortured his subjects. None of the references are explicit or graphic, but some of the things mentioned are fairly macabre. A reference is made to a sorcerer king being executed after several attempts. A gruesome story is told about an evil man murdering a girl and drinking her blood (there is no graphic detail). A sorcerer traps the souls of his victims; in two instances, he sews either the eyes or mouth of people whose souls he has trapped. A girl smacks a man with ice-encrusted gloves. In several instances, characters are punched or "boxed" in the face (all of these scenes are non-detailed and handled farcically). During the climax of the book, there are several creepy scenes and also a small battle scene. Characters are scatched by thorns and described as bleeding. A character shoots another character. A character dies in a fantastic/magical way.
Sex/Nudity: Characters flirt gently on several occasions; there is a discussion among sisters about what kissing is like; a brief kiss is described. A man tries to force a girl to kiss him.
Mature Subject Matter:
Death of a parent, estrangement from a parent, rebelling against authority, choices with dire consequences.
Alcohol / Drug Use:
***
Reviewed By CindyB