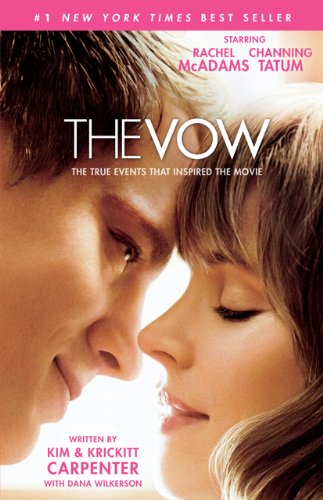 Publisher's Note:
Life as Kim and Krickitt Carpenter knew it was shattered beyond recognition on November 24, 1993. Two months after their marriage, a devastating car wreck left Krickitt with a massive head injury and in a coma for weeks.

When she finally awoke, she had no idea who Kim was. With no recollection of their relationship and while Krickitt experienced personality changes common to those who suffer head injuries, Kim realized the woman he had married essentially died in the accident.

And yet, against all odds, but through the common faith in Christ that sustained them, Kim and Krickitt fell in love all over again. Even though Kim stood by Krickitt through the darkest times a husband can ever imagine, he insists, "I'm no hero. I made a vow."

Now available in trade paper with a new chapter and photo insert, The Vow is the true story that inspired the major motion picture of the same name starring Rachel McAdams (The Notebook), Channing Tatum (Dear John), Sam Neill (Jurassic Park), and Academy Award winner Jessica Lange.
The Vow
by Kim Carpenter
Overall Review:
I have tried to think of a more eloquent way to say this, but can come up with no better compliment than the fact that by the second chapter of this book, I forgot I was supposed to be marking on my content analysis reviewer worksheet as I read. It wasn't until my husband came home that I looked up from the book and was startled to see I was halfway through it and had not been recording things as I should have. I had to go back through it to gather the data I needed.
The Vow is a sweet and wonderfully emotional true story about two newlyweds who are involved in a serious car accident. Both Kim and Krickett Carpenter suffer serious injuries in the accident, but it is Krickett who hovers close to death. She regains consciousness only to find that she can't remember the last year and half of her life, including meeting and marrying her husband.
There has been a movie made that was based loosely on the idea of what happened to Kim and Krickett, but the true story is much more miraculous and inspiring than Hollywood chose to portray it. The Vow is an example of how faith, love, and devotion can overcome the greatest of obstacles. The world needs more stories like this one.
Content Analysis:
Profanity/Language: None
Violence/Gore: Extended scene involving a serious car accident with many injuries described in detail including but not limited to one person's blood dripping over another person, long glass shards imbedded in a man's back, and an ear almost torn off.
Sex/Nudity: None
Mature Subject Matter:
Suicidal thoughts, serious injuries and medical trauma.
Alcohol / Drug Use:
***
Reviewed By Ambra