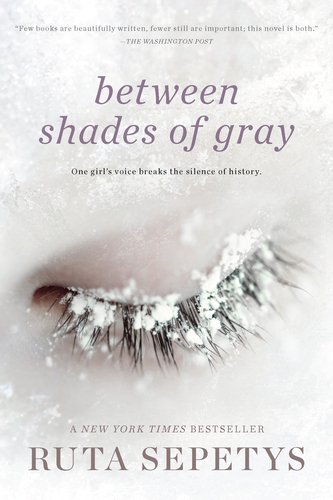 Publisher's Note:
Fifteen-year-old Lina is a Lithuanian girl living an ordinary life--until Soviet officers invade her home and tear her family apart. Separated from her father and forced onto a crowded train, Lina, her mother, and her young brother make their way to a Siberian work camp, where they are forced to fight for their lives. Lina finds solace in her art, documenting these events by drawing. Risking everything, she imbeds clues in her drawings of their location and secretly passes them along, hoping her drawings will make their way to her father's prison camp. But will strength, love, and hope be enough for Lina and her family to survive?

This powerful tale of heartbreak and hope is sure to haunt readers long after they finish the last page.
Between Shades of Gray
by Ruta Sepetys
Overall Review:
It's never easy to read about war, and Between Shades of Gray is no exception. The atrocities committed during World War II are heartbreaking and difficult to imagine, but Ruta Sepetys has done a wonderful job of telling a horrifying story in the most sensitive way. The story is a little-known one--about Lithuanian prisoners of war who are taken to Siberia to work themselves to death. In the midst of extreme ugliness, a small group of people develops a close bond. They share with everyone--even those who are difficult and unlikeable. They buoy one another up and look forward to the future. They comfort one another when tragedy strikes. Sepetys' story is ultimately one of hope and emphasizes the importance of family ties.
I found myself experiencing the conflicted feelings that many prisoners of war must have felt--look out for Number One, or show compassion at my personal expense? Speak up for what's right and be beaten down, or keep quiet and stay out of trouble? Our protagonist does all of the above, and learns from her mistakes. I hope I never have to experience anything so awful in my life, but I'm grateful for writers like Sepetys who help us examine ourselves and hopefully emerge from the reading a little stronger, a little smarter, and a little more in touch with who we want to become.
Content Analysis:
Profanity/Lanugage: 1 religious exclamation; 5 mild obscenities; 2 religious profanities; 3 derogatory names; 2 obscene hand gestures.
Violence/Gore: A character reports that a murder occurred; characters are kicked and pushed by officers; characters are beaten by officers; a mentally unstable and assaults a child; a character coughs up blood; several characters are shot and left lying where they are; characters try to dig out of a snowbound hut with bare hands; a dead baby is taken from its mother and thrown out of a moving train; a character reports a suicide.
Sex/Nudity: Two teenaged characters hold hands and kiss briefly; characters are required to strip down and shower in front of officers; characters see naked corpses in piles; characters are subjected to lewd remarks and innuendo by officers; a character has her skirt pulled up by an officer; a character is forced to strip and her breasts are groped by an officer; a character prostitutes herself to officers to save her child's life; characters discuss what officers might be thinking about doing with them.
Mature Subject Matter:
Death, Suicide, War, Prisoners of War, Bullying, Family Separation, Theft.
Alcohol / Drug Use:
A teenager smokes; a child smokes; two adult characters become drunk.
Reviewed By Leslie