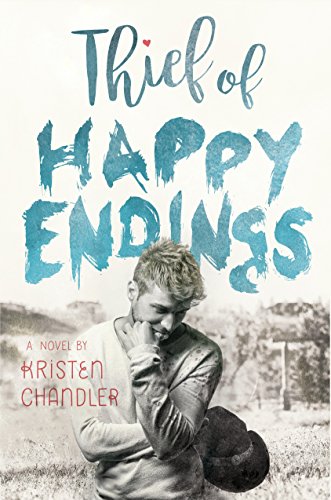 Publisher's Note:
Sarah Dessen meets the Wild West in this tale of wild mustangs, irresistible wranglers, and the first rule of horses: if you get bucked off, you have to get back on.
Cassidy Carrigan wasn't planning to ever get on a horse again. She wasn't even planning on going to back to school after her dad moved out, her best friend ditched her, and her anxiety took over. But then she wasn't planning on being shipped off to a ranch in the mountains of Wyoming as a charity case either. Or falling for a cowboy with a broken nose and an even more broken soul. But sometimes you just have to do a stupid, dangerous thing to have the time of your life.
Set in the wild, beautiful west, here is a story about fear and failure and falling in love when the odds are against you. Alternatingly heart-stopping and heart-breaking, The Thief of Happy Endings is a story that will stay with you, like a summer you'll never forget.
This book was sent to Compass Book Ratings for review by Viking Books for Young Readers
Thief of Happy Endings
by Kristen Chandler
Overall Review:
Run, don't walk to go and grab this fantastic book. You won't be disappointed. Kristen Chandler shows what a master of the novel she is, and I can't wait to see if she writes more.
If you read the summary of the book and feel like it's a romance, don't run. While there is an underlying romantic story, it almost seems more as background then a major theme of the story. The book centers on Cassidy, a girl whose life seems to be falling apart around her. Her parents are divorcing, and she has anxiety so crippling she missed most of the last semester of high school and flunked the grade.
The character development in this book was spectacular. While there is a cast of characters, the author doesn't spend a great deal of time creating the backstories of these characters. This works well in this book. It allows for a major focus on the main character, and I felt like I really got to know her, how she thought and how she would react to different situations. The characters were also extremely realistic. While the camp is designed for troubled teens or teens with issues, the character experiences were believable as compared to other books that I have read with similar subject matter.
This novel is also exquisite in its environment setting. I didn't feel like I was reading about a horse ranch in Wyoming--I was there. I could hear the horses whinnying, I could feel the wind and dirt. This book puts you in the action, not just watching it and it makes for an encompassing read.
"I mean, how am I supposed to figure my crap out if I'm always dealing with everybody else's?" Thief of Happy Endings is stuffed full of great lessons and perspectives on dealing with your changing world and reactions to it. A great read for readers looking to get lost in the wide-open spaces of Wyoming and feel like the world really will make sense in the end.
Review of an Advance Reading Copy
Content Analysis:
Profanity/Language: 4 religious exclamations, 44 mild obscenities, 1 religious profanity, 8 derogatory names, 33 scatological words, 12 anatomical terms and 1 offensive hand gesture.
Violence/Gore: Two playful punches to arm; numerous falls from horses some without injury and some with stitches and broken bones; horse nips at another; girl tries to punch man in panic; girl trips and is almost trampled; horse bites at fingers; boy grabs girl's arm roughly; 2 page scene of horses fighting amongst selves with bloody injury and death of colt; girl burns hand on pot; multiple release of horses not owned by person and destruction of property; two verbal threats; scars on boy's back from abuse; boy found with broken bones due to abuse from father; man punches girl in face; boy punches man knocking unconscious.
Sex/Nudity: Reference to a threesome; multiple instances of kissing, hand holding and hugs; reference to pornography; teens kiss and have hands up and down each other's clothed bodies; teens have sex without explicit detail.
Mature Subject Matter:
Death of family members and animals, divorce, separation, abandonment, mental disorders, child abuse, alcohol addictions, infidelity, ethics.
Alcohol / Drug Use:
Adult is alcoholic; teen smokes.
Reviewed By Beckie