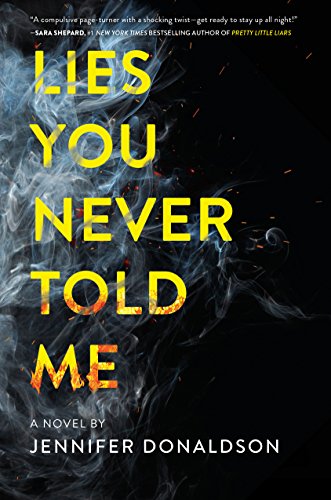 Publisher's Note:
Gabe and Elyse have never met. But they both have something to hide.
Quiet, shy Elyse can't believe it when she's cast as the lead in her Portland high school's production of Romeo and Juliet. Her best friend, Brynn, is usually the star, and Elyse isn't sure she's up to the task. But when someone at rehearsals starts to catch her eye--someone she knows she absolutely shouldn't be with--she can't help but be pulled into the spotlight.
Austin native Gabe is contemplating the unthinkable--breaking up with Sasha, his headstrong, popular girlfriend. She's not going to let him slip through her fingers, though, and when rumors start to circulate around school, he knows she has the power to change his life forever.
Gabe and Elyse both make the mistake of falling for the wrong person, and falling hard. Told in parallel narratives, this twisty, shocking story shows how one bad choice can lead to a spiral of unforeseen consequences that not everyone will survive.
This book was sent to Compass Book Ratings for review by Razorbill
Lies You Never Told Me
by Jennifer Donaldson
Overall Review:
Lies You Never Told Me is the story of two teenagers and their navigation of extremely complex family and social issues. Elyse is a teen largely parenting herself due to her mother's drug addiction. Gabe comes from a great family, but his girlfriend is more than a little psycho and is dangerous at best.
This story is very well-written. The chapters alternative back and forth between the two main characters' point of view, but the transitions were so smooth that the perspective shift was unnoticeable. The story line is highly engaging and keeps you wondering and guessing what is going to happen page after page. It made for a very quick read as the author really sucks you into the intrigue.
Donaldson is masterful in bringing the story all together at the end. It's an ending you don't see coming, but once you get there it fits so well you wonder, "How did I not see that?" The subject matter is more mature, so young readers would be advised to save this one for when they are older. Even older readers may find the book very intense.
A great, captivating read for more mature readers and you'll form a love/hate relationship with these characters. Be prepared for a wild ride.
Review of an Advance Reading Copy
Content Analysis:
Profanity/Language: 31 religious exclamations; 14 mild obscenities; 8 derogatory names; 33 scatological words; 8 anatomical terms; 27 f-word derivatives.
Violence/Gore: Teenage boy hit by car on skateboard with injuries to arm; reference to ex-boyfriend giving mom a black eye; recall of parental death twice; boy grabs girl by arm; child with down syndrome kidnapped; fake blood spread all over locker; razor blade placed in envelope that cuts boy's hand; boy punches locker; verbal threats of possible harm; fall with scraped hand; 3 page house fire without serious injury; mother overdoses on Oxycontin; man rips phone from wall in anger; blood trail through motel; 4 page fight between adult and 2 teens resulting in gunshot wound to shoulder and fatal gunshot wound; 3 page stand-off between three teens, one with a gun with threatened suicide.
Sex/Nudity: Teenage girl takes off bikini top in pool twice; numerous instances of kissing, hand-holding and hugging; naked girl in teenage boy's room offering sex; teenage girl has romantic and physical relationship with adult male teacher; arm around waist; girl comes out in yard in skimpy lingerie; girl-girl kiss; 2 page kissing and stripping with sex implied between adult male and teenage girl; sex video posted on social media with moderate detail described; boy watch's adult male kissing and touching teenage girl; reference to father's marital affair in crude language.
Mature Subject Matter:
Death of family member, considered suicide, unemployment, addictions, mental disorders, abandonment, child neglect, spousal abuse, imprisonment, marriage infidelity, inappropriate emotional/sexual relationships.
Alcohol / Drug Use:
Teens drink and smoke marijuana; adult uses illegal narcotics and smokes; mother overdoses on Oxycontin.
Reviewed By Beckie