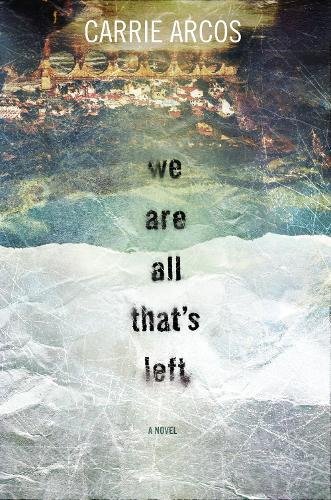 Publisher's Note:
Zara and her mother, Nadja, have a strained relationship. Nadja just doesn't understand Zara's creative passion for, and self-expression through, photography. And Zara doesn't know how to reach beyond their differences and connect to a closed-off mother who refuses to speak about her past in Bosnia. But when a bomb explodes as they're shopping in their local farmers' market in Rhode Island, Zara is left with PTSD--and her mother is left in a coma. Without the opportunity to get to know her mother, Zara is left with questions--not just about her mother, but about faith, religion, history, and her own path forward.

As Zara tries to sort through her confusion, she meets Joseph, whose grandmother is also in the hospital, and whose exploration of religion and philosophy offer comfort and insight into Zara's own line of thinking.

Told in chapters that alternate between Zara's present-day Providence, RI, and Nadja's own childhood in Bosnia and Herzegovina during the Bosnian War of the 1990s, We Are All That's Left shows the ways in which, no matter the time and place, struggle and tragedy can give way to connection, healing and love.
This book was sent to Compass Book Ratings for review by Philomel
We Are All That's Left
by Carrie Arcos
Overall Review:
We Are All That's Left is a fascinating story of love, loss, and forgiveness. The chapters alternate between Zara and flashbacks of her mother, Nadja, when she was nearly Zara's age. The ways their lives intertwine and history repeats itself, even just little things, is so interesting. Both characters deal with extremely awful things--especially Nadja. Watching them pull themselves out of the darkness, whether slowly or over time, is both heartbreaking and inspiring. We also meet some great characters along the way who support them and help them through their hardships. Author Carrie Arcos's attention to detail makes the story come to life. While at times this book is difficult to read, it is a very moving story that will make you want to be a better person. This is the kind of book that will linger with you for a long time.
Review of Advanced Reader's Copy
Content Analysis:
Profanity/Language: 1 religious exclamation; 3 mild obscenities; 4 derogatory names; 8 scatological words; 9 f-word derivatives.
Violence/Gore: Many (51) brief incidents including pictures of people with make-up making them look dead; character wonders if mother wanted to abort her; joking about someone shooting ear off; character wondering if someone ate cats; character thinking about how to attack someone; character dreams about bombing; character wants to slam another's face down; characters contemplating whether or not they could kill someone; character in play could get killed; play about death; imagining someone talking about killing; several references to war; several references to death and characters dying; reference to war and genocide; character remembers a character getting blown up & body parts falling off; references to murder; second-hand report of character hearing a man's leg getting amputated; reference to mother losing children; second-hand report of bombing; reference to torture; second-hand report of character's throat slit; character has flashbacks to bombing and accidently scratches face; imagining food on a plate is human body parts; many incidents of snipers shooting; characters beat up a guy because they think he's Muslim; bombing; character beats up another; attempted rape; explosion causing death and getting glass in character's back; characters shot by snipers; character kills soldier.
Sex/Nudity: Many (27) brief incidents including kissing; hugging; holding hands; character wanting to make out with another; character imagining being held; character removing clothing for bath; flirting; character joking about running naked; reference to unmarried person getting pregnant; innuendo; reference to character being a virgin; reference to a hooker in a movie; rape mentioned; reference to a rape camp; attempted rape (with very little detail); reference to pornography.
Mature Subject Matter:
Genocide, war, rape camps mentioned and attempted rape, people starving, poverty, reference to anorexia, religious bigotry.
Alcohol / Drug Use:
Adults drinking wine and smoking cigarettes; reference to a man getting drunk; teens smoking cigarettes; drinking at a party; character wants champagne; second-hand report of teens drinking.
Reviewed By Jenny