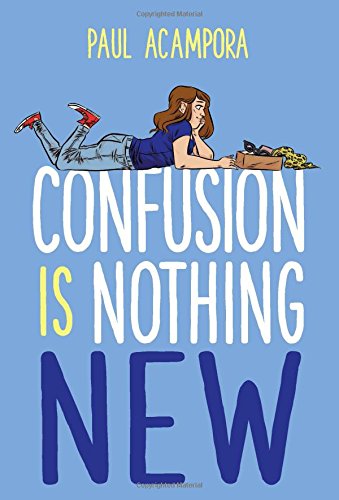 Publisher's Note:
Ellie Magari just learned that her mother is dead. Perhaps that would be sad if Ellie had ever met the woman. Exactly who was Ellie's mom? Does it even matter that she's gone? Perhaps a dead mom can still help Ellie figure out what it means to be a girl in the world today. Either way, Ellie wouldn't mind a role model beyond her master chef Dad.
Fueled by the bighearted sounds of '80s rock and roll, plus large doses of Cyndi Lauper's girl-power joy, Confusion Is Nothing New is about friendship, family mysteries, and the perfect pizza. It's also about fathers and daughters and girls who understand that it's good to make things, but breaking things is okay too.
In fact, sometimes breaking things is required.
This book was sent to Compass Book Ratings for review by Scholastic Press (A Scholastic Imprint)
Confusion is Nothing New
by Paul Acampora
Overall Review:
Old or young, this is a book that should go straight to the top of your reading pile. With a band of characters that will leave you reminiscing about your best-est buds and a plot line that is nothing short of masterful, this quick read will leave you with a smile…and maybe humming a little tune from the 80's.
The first chapter-the first few paragraphs-are a bit of a smack in the face. Ellie, a high school student, finds out that the mom she never met is dead. This knowledge sets her off on a wild ride of thrown glockenspiels, 80's cover bands, and a bit of discovery that will define the remainder of her life.
I love the comedy that is laced into this book. It's a heavy topic and lesser authors could have made the same story a dirge of self-discovery. Paul Acampora does a masterful job of weaving the interplay of goofy friends and clutzy scenarios to craft a story, and more importantly a moral, that really sticks with you. By the end of the book, he gets to the same place most other authors probably would have gotten to, but in such a way that the ride is bright and joyful and full of introspection instead of dark and gloomy.
The prose is quick, the comedy is slapstick, and the characters will long live in your memory. Definitely one to read this summer regardless of how young or old you feel.
Review of an Advance Reading Copy
Content Analysis:
Profanity/Language: 1 religious exclamation; 1 mild obscenity.
Violence/Gore: Report of a mother's death from terminal illness; fall results in twisted ankle; fall resulting in no injuries; fall resulting in breaking of cemetery statue; girl throws glockenspiel down grandstand; story of man breaking BB gun over leg; boy hits head on door without injury; multiple playful slaps to back of boy's head.
Sex/Nudity: None
Mature Subject Matter:
Death, abandonment, divorce, terminal illness.
Alcohol / Drug Use:
None
Reviewed By Beckie