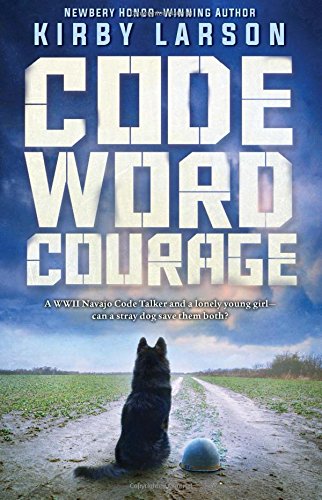 Publisher's Note:
Billie has lived with her great-aunt ever since her mom passed away and her dad left. Billie's big brother, Leo, is about to leave, too, for the warfront. But first, she gets one more weekend with him at the ranch.

Billie's surprised when Leo brings home a fellow Marine from boot camp, Denny. She has so much to ask Leo -- about losing her best friend and trying to find their father -- but Denny, who is Navajo, or Diné, comes with something special: a gorgeous, but injured, stray dog. As Billie cares for the dog, whom they name Bear, she and Bear grow deeply attached to each other.

Soon enough, it's time for Leo and Denny, a Navajo Code Talker, to ship out. Billie does her part for the war effort, but she worries whether Leo and Denny will make it home, whether she'll find a new friend, and if her father will ever come back. Can Bear help Billie -- and Denny -- find what's most important?

A powerful tale about unsung heroism on the WWII battlefield and the home front.
This book was sent to Compass Book Ratings for review by Scholastic Press (A Scholastic Imprint)
Code Word Courage
by Kirby Larson
Overall Review:
A touching novel on how friendship and heroes can come in all shapes, sizes, and colors that is also a good introduction to the role of Navajo Code Talkers played in WWII. Author Kirby Larson once again accurately depicts the emotions and turmoil felt during WWII while also weaving into the story the love of a dog in his latest historical fiction work, Code Word Courage. Set in California as WWII is going full steam ahead, Billie has heaps of worries on her plate. She worries about her brother shipping out soon, her new friend being accepted by others, whatever happened to her long-lost father and how she'll take care of an injured dog and getting her great aunt to allow her to keep this creature in need of love.
On Billie's brothers last weekend home before he is shipped overseas, she also gets to know Denny, who is Navajo and who brought her Bear, an injured dog. Having Bear to take care of helps Billie deal with missing her brother, the school bullies and not knowing why her dad abandoned her. As she looks back she realizes how much she owes Denny for bringing Bear into her life. As she opens her heart to Bear, she also learns to open her heart to others allowing Billie to deal with all that she has bottled up over the years.
With the Leo and Denny's stories interwoven into Billie's, the reader learns more about WWII, specifically the Pacific theater, as well as the little-known story of the Navajo Code Talkers and how their language became the code the Japanese couldn't break. Code Word Courage is the perfect novel for the young history/WWII buff, but it is also the perfect novel for those that love stories about animals.
Other novels by Kirby Larson: Liberty
Content Analysis:
Profanity/Language: None
Violence/Gore: Brief account given of man throwing rocks at and injuring a dog and just leaving it on the side of the road; character has memory of an adult shoving soap in his mouth; character finds telegram that had informed someone if the death of their husband while fighting in WWI; character hits person causing him to hit his nose hard enough to start bleeding; 3 page account of character being in a combat situation where he is shot at and he sees other people getting shot and dying; brief mention of woman getting a telegram with news about the death of her husband; character falls and breaks his arm; character mentions having witnessed men getting shot and killed by sniper fire; character receives a gunshot wound to his side.
Sex/Nudity: Mention of girl needing and wearing a bra while someone else has a flat chest; 2 adult character kiss; 2 characters hold hands; girl is described as having an ample chest after having stuffed her bra with tissues.
Mature Subject Matter:
Death, war, bullying, racism.
Alcohol / Drug Use:
None
Reviewed By Sally