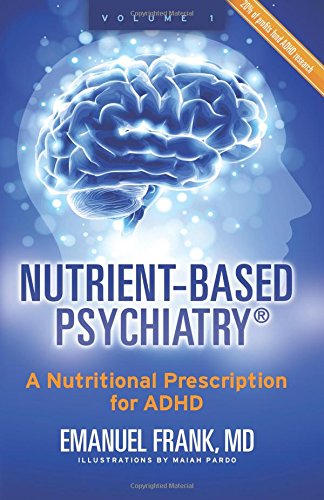 Publisher's Note:
NUTRIENT-BASED PSYCHIATRY® provides detailed information on the integration of nutritional approaches into the treatment of psychiatric conditions, with a focus on ADHD. This is the first in a truly unique book series written for patients and health care professionals alike. It has been extensively researched and peer reviewed by child psychiatrists. In NUTRIENT-BASED PSYCHIATRY® Volume 1, Emanuel Frank, MD applies his years of study and clinical expertise to describe the relationship and bridge the gap between mainstream psychiatric practice and nutritional interventions, with a focus on ADHD. • Written by a practicing board-certified psychiatrist with years of clinical experience • Extensively researched with 100s of unique references • Peer reviewed by child psychiatrists • Designed for patients, parents and health care professionals, alike • Readers come away with: - Deep insight into nutritional approaches to treating ADHD - Specific and detailed information required to make informed decisions about the treatment of ADHD including: * causes and comorbid conditions * lab tests * how and when to use dietary modifications and supplements * when it's appropriate to consider the use of prescription medications This is a must read for those struggling with this diagnosis, their loved ones, and health care providers.
This book was sent to Compass Book Ratings for review by Cadence Group
Nutrient-Based Psychiatry: A Nutritional Prescription for ADHD
by Emanuel Frank
Overall Review:
Nutrient-Based Psychiatry is written by Dr. Emanuel Frank who has been a practicing psychiatrist dealing with children, adolescents, and adults since 2004. He holds degrees in both psychiatry and medicine. Dr. Frank has done extensive research into how ADHD, psychiatry, diet, prescription medication, and nutritional supplements all intersect, possibly creating either the perfect storm or potentially, peace of mind.
Dr. Frank states this book is not intended to be a self-help book on how to medicate yourself or your child but rather to help educate us as parents and patients so that we may be more informed when we speak with a doctor regarding ADHD and the options of treatment. If you are looking for a good resource regarding non-prescription options, this would be an excellent place to start. With 835 sources and studies cited, Dr. Frank has really done his research on this issue.
Within this book, Dr. Frank lays out many non-stimulant, non-prescription options for treatment in the form of vitamins and supplements. Also included are diet-based studies and recommendations for when food may be a natural cause of complications. Touching on the selection of prescription medications when that option is more capable of successfully bringing results, Dr. Frank addresses medications and combinations of both medications and nutrients that could affect positive change in symptoms. Side effects are addressed and ideas of how to treat them are given. Dr. Frank does not present the medical information in a way that would suggest over-medicating an individual but rather only giving minimal amounts that would affect positive change.
There is some deep science in this book, however, Dr. Frank does an admirable job bringing it all down to a level that non-physician/non-scientist's can begin to understand. Part 3 is where supplements are specifically addressed; the explanations are a bit less scientific and easier to understand giving the parent or patient the basic knowledge of how each nutrient can potentially positively affect symptoms. Dr. Frank gives us the tools and the basic information so we can take suggestions to our physicians and have an informed conversation with them regarding a treatment plan. Knowledge is power and this book delivers it in abundance.
Dr. Frank intends to write more books in the immediate future regarding additional psychiatric disorders with the intent of passing on material that would be "relevant information to parties on both sides of the equation," meaning both patients and doctors. With the focus on non-prescription nutritional supplements, Dr. Frank could potentially revolutionize the field of medicine by offering options to those who would prefer to not take prescription medications but would rather go with a more natural approach. Keep watch for future books.
This review is of a pre-sale review copy; however, the book was published on June 21, 2017.
Content Analysis:
Profanity/Language: None
Violence/Gore: None
Sex/Nudity: None
Mature Subject Matter:
None
Alcohol / Drug Use:
Recommended that individuals seek medical advice before taking any supplements.
Reviewed By Beth