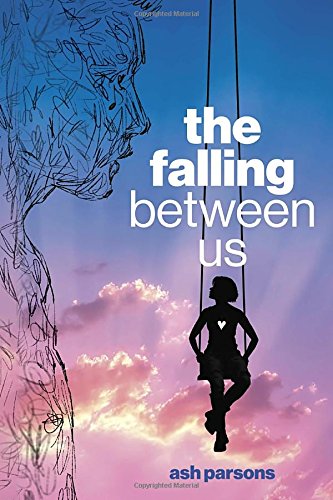 Publisher's Note:
Just eight months ago, fifteen-year-old Roxanne Stewart was stuck in her tiny, middle-of-nowhere hometown with no prospects of leaving. But after her boyfriend, Joshua Blackbird, posts a performance of an original song on YouTube, he becomes an overnight sensation, catapulting to the dizzying heights of celebrity, and Rox joins him on the whirlwind ride of a massive national tour.

But it's not long before the never-blinking eye of fame begins weighing them both down--the constant hunger of managers, diehard fans who call themselves "Birdies," record execs, paparazzi, and even family, all leeching onto Joshua.

Then one day, Joshua Blackbird disappears. Was it a suicide? An accident? Rox will stop at nothing to find out the truth. The Falling Between Us is a haunting love story and a piercing look at the costs of fame.
This book was sent to Compass Book Ratings for review by Philomel
The Falling Between Us
by Ash Parsons
Overall Review:
Ash Parsons crafts a beautiful and heartbreaking love story in The Falling Between Us. Joshua becomes the heartthrob of an insane number of teens when his musical talent is discovered. In the blink of an eye, he and his girlfriend, Roxanne, leave their trailer park for mansions and a worldwide concert tour. Surrounded by all the glamour that comes with being a star, they never could have anticipated all the changes that were in store for them, both fantastic and awful. Joshua loves music and performing, but it comes at a cost which many just want to solve with medication.
Parsons does a wonderful job of helping the reader understand the emotions and pressures that can come with being in the spotlight. Having been involved in child and youth advocacy for many years, she has great insights. There are many deep themes in this story, such as depression, suicidal thoughts, and obsession. It gets a little heavy to read at times because of these subjects but Parsons is able to accurately capture the many stages of grieving the loss of a loved one, thus making the story and characters feel quite real. Her lyrical language is captivating as she describes the many emotions both Roxanne and Joshua experience. To share a few:
"Forgiveness feels like flying"
"I missed you like air"
Young adults who enjoy an intriguing, emotional love story with a mysterious twist need to give The Falling Between Us a read.
Review of an Advanced Reading Copy
Content Analysis:
Profanity/Language: 3 religious exclamations; 6 mild obscenities.
Violence/Gore: Several (15) brief incidents including character wants to kick another; character contemplates suicide; character jokes about punching beauty queen; character says people would kill for certain life; character considers suicide; character has bloody lip and bandaged hand; reference to battlefield; reference to little girl having kicked little boy; second-hand report of character getting stabbed; reference to character committing suicide; reference to character getting drugged and stabbed; second-hand report of murder; reference to characters dying; character starts punching and kicking people who are crowding her; character dies - possible suicide.
Sex/Nudity: Many (26) brief incidents including holding arm and hands; kissing; arm around; cuddling; flirting; hugging; reference to boys liking to look at boy; reference to first base; innuendo; a few incidents of characters cuddling and sleeping beside each other; characters passionately kissing and touching (no further detail given).
Mature Subject Matter:
Suicide, poverty, shoplifting, depression, parents leaving children.
Alcohol / Drug Use:
A few incidents of adults and minors drinking; people smoking.
Reviewed By Jenny