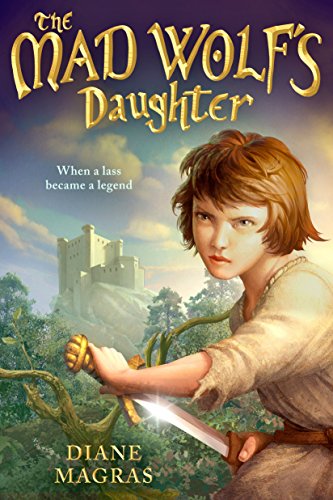 Publisher's Note:
One dark night, Drest's sheltered life on a remote Scottish headland is shattered when invading knights capture her family, but leave Drest behind. Her father, the Mad Wolf of the North, and her beloved brothers are a fearsome war-band, but now Drest is the only one who can save them. So she starts off on a wild rescue attempt, taking a wounded invader along as a hostage.

Hunted by a bandit with a dark link to her family's past, aided by a witch whom she rescues from the stake, Drest travels through unwelcoming villages, desolate forests, and haunted towns. Every time she faces a challenge, her five brothers speak to her in her mind about courage and her role in the war-band. But on her journey, Drest learns that the war-band is legendary for terrorizing the land. If she frees them, they'll not hesitate to hurt the gentle knight who's become her friend.

Drest thought that all she wanted was her family back; now she has to wonder what their freedom would really mean. Is she her father's daughter or is it time to become her own legend?
This book was sent to Compass Book Ratings for review by Kathy Dawson Books
The Mad Wolf's Daughter
by Diane Magras
Overall Review:
An epic tale in the spirit of Robin Hood and King Arthur, Diane Magras' The Mad Wolf's Daughter is a gripping story of friendship, honor and loyalty. The main character is a compelling girl whose duality lends her an effortless relatability. Despite her father training her alongside her brothers, Drest is untested and while she has a strong moral compass and sense of honor, she has grown up isolated, knowing only her family. When she finds herself on her own and her family's only hope she must find a way to reconcile her small world with the wider, more dangerous one she encounters. The Mad Wolf's Daughter is a captivating adventure from start to finish that the reader won't want to put down.
Review of an Advance Reader Copy
Content Analysis:
Profanity/Language: 9 Religious Exclamations.
Violence/Gore: Many scenes, both short and extended, of battle with swords; girl elbow man; many references to banditry; camp catches fire; man pushes young man into ravine; young man sustains serious injuries, referenced throughout; many references to execution; girl threatens to lay out young man; character catches a hare; references to failed escape attempts; a few references to rumors of eating animals alive; boys beat other boy; reference to famine; several reference to a young woman's murder; girl and young man fall in mud; village tries to burn "witch" at the stake (extended); character burns village down; reference to woman being hanged; reference to a man using a child to threaten and extort woman; references to sustaining wounds in battle; girl fears being beaten; references to a poisoned well killing people; references to curses; boy put in the stocks; man holds knife to young man's throat; man holds knife to girl's throat; man kicks young man; woman predicts death for girl; friends worry young man will die from injuries; girl beaten and captured; man falls from a cliff; girl threatens young man.
Sex/Nudity: A few instances of a young man and girl holding hands.
Mature Subject Matter:
Magic and superstition, illegal activity, death.
Alcohol / Drug Use:
Mead drunk by all ages throughout book.
Reviewed By Amberle