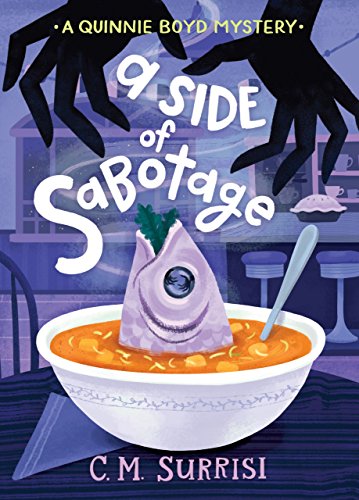 Publisher's Note:
For decades, Gusty's Café has been a beloved staple in Maiden Rock, Maine. Quinnie Boyd's dad runs the café, just like Quinnie's granddad before him. But the family business has new competition when a bad-boy chef from Boston opens his own place in the small vacation town.

The new restaurant takes fancy dining to the extreme. Still, that's not a crime . . . but when things start to go wrong at Gusty's, Quinnie suspects foul play. Are the people behind Restaurant Hubert trying to squash the Boyds' family café? Quinnie is about to find out if it is a coincidence?or sabotage.
This book was sent to Compass Book Ratings for review by Carolrhoda Books
A Side of Sabotage (Quinnie Boyd Mysteries)
by C.M. Surrisi
Overall Review:
A Side of Sabotage by C.M. Surrisi was a refreshingly brilliant little book. It was incredibly easy to read. It wasn't a complex mystery, but it was sufficiently tense enough that I read it in about two days.
Quinne (Quinnette) Boyd is a high-schooler with a mind for mystery and a nose for trouble. Trouble, in this book, takes the form of a new restaurant which has opened in town, in direct competition to Quinnie's dad's long-established diner. When a challenge is issued to prove which restaurant is the best, and a Secret Diner is hired for a 17-day test to see which diner is worthy of winning, things begin to go wrong. First, the dishwater floods. Then the freezer's cooling system is tampered with. Quinnie can't help but wonder, is it coincidence, or sabotage? But when the petty crimes turn serious, Quinnie will do anything to save her dad's restaurant and bring the perpetrator to justice.
Unlike a lot of books these days, this had the sweetest little romance ever, and it was never in-your-face. It was, simply and brilliantly, two young teens in the first cautious steps of romance, and they treated it as a delicate friendship with a little something "extra" on top. I heartily recommend this book for anyone who likes a good cozy mystery and solid friendship stories.
Content Analysis:
Profanity/Language: 4 religious exclamations; 2 mild obscenities.
Violence/Gore: Teenage boys and girls wrestle and tease each other; a girl gives a boy a noogie; a character suspects someone is trying to steal her family's recipes; a character says someone is trying to sabotage her family's business; a restaurant's dishwasher floods; two character get heated with each other; characters plot to break into someone's restaurant; characters are almost caught by a shop owner; characters witness EMTs carrying a vomiting man out of a restaurant; two characters scream angrily at each other; characters get in trouble when they are caught on a security camera sneaking into a restaurant; characters are accused of messing with spices and making someone ill; characters discover the labels on spices have been changed; characters plot to surveil for any potential break-ins; characters observe an intruder, but accidentally scare him away and try to give chase; a character suspects someone of being a saboteur; characters arrange a nighttime escapade to see if a lost key fits into the door lock on a suspect's house; characters think they witness someone commit sabotage; people get violently ill from tainted fish soup; a female character tackles and arrests another female character; characters discover food was poisoned.
Sex/Nudity: A girl has flirty thoughts about a boy; girls assess a man's physique; a character has fond thoughts about her boyfriend; a boy and girl hold hands and sit together; a boy and girl hug and kiss; a character wants to hang out with her boyfriend, hold hands and touch shoulders; a boy and girl walk with their arms around each other; a character wants to be kissed by her boyfriend.
Mature Subject Matter:
Sabotage, breaking and entering, cheating.
Alcohol / Drug Use:
None
Reviewed By Katrina