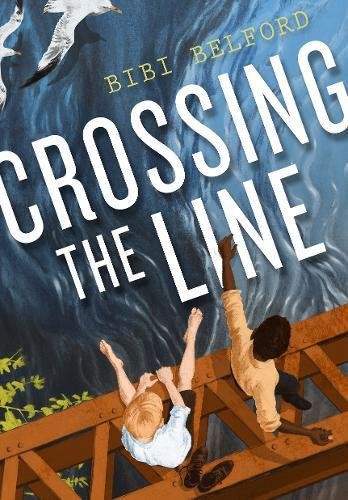 Publisher's Note:
Billy's family has fallen on hard times, what with his da hospitalized after the war and his ma barely scraping by. But it's no hardship for him when there's not enough money to pay the tuition for Nativity of Our Lord, the private Catholic school everyone in his neighborhood attends. Billy's not big on education.

When he transfers to James Ward, a Chicago public school, he finds out there's a big difference at public school: the kids aren't all Irish—in fact, they aren't even all white. It isn't long before Billy's found a new best friend in Foster, another fifth grader who also doesn't have any money, loves baseball, and just happens to be black.

Billy is pretty sure skin color doesn't matter. Not when he and Foster are just horsing around, playing baseball, working on the docks of the canal, and building a raft at their secret hideout on Bridgeport's Bubbly Creek. But in the Red Summer of 1919, it does matter.
This book was sent to Compass Book Ratings for review by Sky Pony Press
Crossing the Line
by Bibi Belford
Overall Review:
Billy is a young man for whom the world no longer makes sense; his father returns from The Great War shell shocked, he doesn't recognize the person his oldest friend is becoming, and he has to hide his best friend because society won't accept them. Feeling alone and without anyone he can turn to for advice, Billy is left to make a very difficult and grown up decision: what will he stand for?
Crossing the Line by Bibi Belford is a powerful story of friendship and the cost that can come with doing the right thing. Set in 1921 Chicago, Belford perfectly captures the tensions coursing through the city as tangible as the mighty river that flows through it. The city and country churn with labor disputes fueling racial tensions, economic depression, and corrupt leadership at the highest levels of government--all just looking for a spark to ignite. Crossing the Line is an excellent read!
Content Analysis:
Profanity/Language: 19 Religious Exclamations; 3 Mild Obscenities; 5 Derogatory Names .
**The term Negro is used to describe black people throughout the book. It is used by members of both ethnicities and as a historically accurate reference.**
Violence/Gore: Many reference to racially motivated violence, including murder and assault; several references to terrorist activities; references to organized crime/violence; several references to war time violence; man becomes shell shocked as a result of military service; girl shoves boy; many instances of boys rough-housing; woman hits boys with bag; reference to being hit; reference to infant death; woman hits boy; many references to domestic violence; several references to the Irish Revolution; man shoves other man; many punches other man; man squeezes the back of boy's neck; someone kicks boy; boy breaks a glass; details of cleaning a fish after being caught; a few references to historical incidents of animals killing people; a few references to historical figures deaths; boy punches girl's arm; boys speculate about jumping from a bridge; woman pokes boy; woman slaps other woman's hand; boys throws bottle at other boy and his puppy; boy threatens other boy and his family; boys scratch girl; boy throws bricks at black people; man hit by a baseball; Boy beaten; References to a several historical disasters, with causalities; boy accidentally fires a gun; references to a particular boys cruelty; reference to a man dying from a snakebite; boy obtains cuts and scrapes; men throw rocks at boys; boy hit by rock; man shoves boy; man punches young man; references to and some scenes describing a Race Riot; woman spanks boy.
Sex/Nudity: Boy and girl kiss.
Mature Subject Matter:
Racism, unions and economic hardship, domestic violence, death, war, violence.
Alcohol / Drug Use:
Many instances of drinking and tobacco consumption by adults; a character who is a violent alcoholic; some implications of alcohol consumption by young men who would be considered underage by today's standard.
Reviewed By Amberle