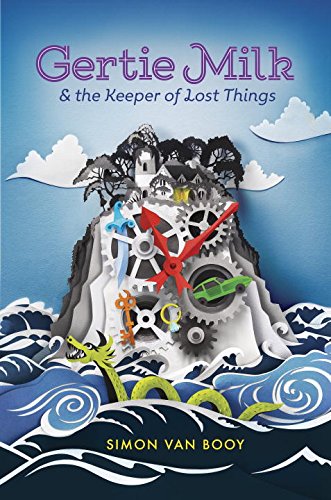 Publisher's Note:
When twelve-year-old Gertie Milk washes up on the island of Skuldark, she finds that all of her memories are gone. Home to helpful Slug Lamps, delicious moonberries, and a ferocious Guard Worm, the island is full of oddities, including a cozy cottage containing artifacts from every corner of history.

It is there that Gertie discovers she has been chosen as the next Keeper of Lost Things, tasked with the mission of returning objects to history's most important figures right when they need them most. With the help of a time machine disguised as a vintage sports car and the guidance of her fellow Keeper, Kolt, Gertie dodges an elephant army in ancient Alexandria, crashes a 1920s flapper party, and battles a ruthless Zhou Dynasty king.

But soon, Gertie encounters an enemy that threatens everything the Keepers stand for: The Losers, villains who don't want to keep order but destroy it. Now, Gertie must uncover the truth of her own past if she wants to stop the Losers and set history back in place.
This book was sent to Compass Book Ratings for review by Razorbill
Gertie Milk and the Keeper of Lost Things
by Simon Van Booy
Overall Review:
When Gertie wakes up on the Island of Skuldark she can't remember a thing about herself. In fact, the only reason she knows her name is because it is sewn into her dress. Upon meeting Kolt she learns that it is her destiny to be a Keeper of Lost Things: a caretaker for all objects lost until it is time to return them to the world. Now she must decide whether to follow destiny or try and recover the life she had. Is it possible to do both? And, if she can find them, does she even want to hear the answers?
Simon Van Booy's Gertie Milk and the Keeper of Lost Things is a delightfully imaginative tale of adventure and finding yourself, at times literally. Gertie is a thoughtful and inquisitive heroine whose caution is the perfect counter balance to the eccentric Kolt's somewhat erratic nature. The story's snappy pace compliments our two characters beautifully and keeps the reader on the edge of their seat, ready to devour more. In Gertie Milk and the Keeper of Lost Things the author has given the reader a story that is part fantasy and part philosophy with a fun bit of history thrown in that all combine to create something very special and enthralling.
Review of an Advance Reading Copy
Content Analysis:
Profanity/Language: None
Violence/Gore: Character nearly downs; character bruises feet; character finds skeleton on beach; character attacked by giant worm; character imagines falling off a cliff; many facetious reference to violence, often with absurd circumstances; man worries girl will step on him; man and girl have objects thrown at them by disembodied limbs (humorous); character recalls being kicked; very brief discussion of death; character shoots cauliflower; reference to possible harm caused by items; references to painful time travel; characters land in the middle of a battle; character is thrown out of a car; character gets heat stroke; character walks into car; characters crash in a tree; references to a artificial intelligences that were abandoned; reference to famous explorer's death; theft; a few instances of a robot shooting a laser; threats written on a wall; reference to famous swordmaker's deaths; scene of a large sword battle; character hit by a bowl; a slug is squished; boy and girl trapped in a snake pit.
Sex/Nudity: None
Mature Subject Matter:
Death, history, abandonment, betrayal.
Alcohol / Drug Use:
References to alcohol at a gala dinner.
Reviewed By Amberle