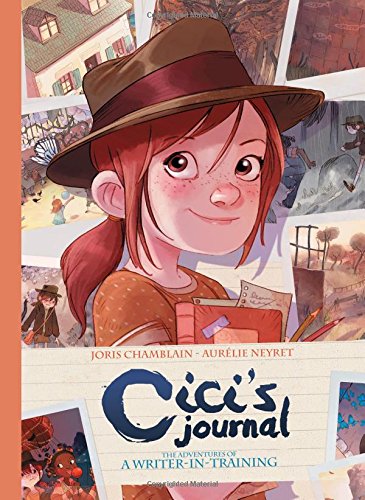 Publisher's Note:
Cici dreams of being a novelist. Her favorite subject: people, especially adults. She's been watching them and taking notes. Everybody has one special secret, Cici figures, and if you want to write about people, you need to understand what's hiding inside them. But now she's discovered something truly strange: an old man who disappears into the forest every Sunday with huge pots of paint in all sorts of colors. What is he up to? Why does he look so sad when he comes back?
In a graphic novel interwoven with journal notes, scrapbook pieces, and doodles, Cici assembles clues about the odd and wonderful people she's uncovered, even as she struggles to understand the mundane: her family and friends.
This book was sent to Compass Book Ratings for review by First Second Books
Cici's Journal
by Joris Chamblain
Overall Review:
Cici's Journal is an adorable story about a little girl with aspirations to become a writer, and the mysteries she solves because of her curiosity and unwillingness to let a matter go.
The illustrations in this graphic novel are beautiful. Every spread was lovely to look at, and the depth of emotion the artist portrayed was incredible. Unlike some graphic novels, this maintained a really lovely flow throughout, and never felt rushed or hurried, and never lost its sense of beauty.
I also enjoyed the stories. There are two: the first deals with a really cool abandoned zoo that a painter keeps alive by painting murals of animals on walls, making the animals "age" by touching up his paintings and having the animals mature, have babies, and die. The second deals with a mysterious old lady and her habit of checking out the same book from a library every week, a habit she has done for over twenty years.
I liked that Cici had to grow and discover she couldn't always get her own way without hurting other people, and that her actions had consequences on those around her. Overall, a really delightful story and one I'm so happy to have been able to review.
Content Analysis:
Profanity/Language: None
Violence/Gore: Characters see a mysterious stranger; a character likes to imagine how a person lost his leg; characters imagine how someone disposes of animals by eating them; a character finds the grave of a dead lion; a character paints a picture of an animal eating fish; a character is depicted with a cut finger; a mother gets angry and yells at her daughter; characters argue; friends have a verbal fight; a woman scolds a girl for manipulating others to get what she wants; a woman tells the story of a young man's ordeal during a war; characters try to make up, but get into another fight.
Sex/Nudity: A mom jokes that, in her day, a hideout was called sneaking out with a sweetheart; a character wonders about peoples' romantic lives; a character refers to a man and a woman as lovebirds; a character tells of the love she has for her deceased husband; characters discover secret love letters hidden in a library.
Mature Subject Matter:
Fighting, lying, deceit, reported death of a family member.
Alcohol / Drug Use:
None
Reviewed By Katrina