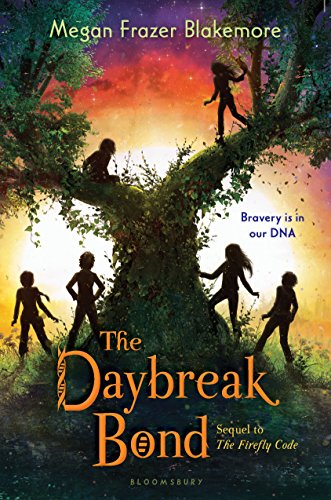 Publisher's Note:
Mori and her friends Julia, Benji, and Theo have never seen life beyond the walls of their perfect society, Old Harmonie. That changes when their new friend Ilana is threatened by the rules that are supposed to keep them all safe. They escape together, hoping to find help in Boston with Dr. Agatha Varden, one of Old Harmonie's pioneering founders.
But the outside world is nothing like they anticipated. As they face challenges they never expected and encounter a group of kids from the outside, Mori and the others begin to understand the complicated reality of their supposedly perfect community. With the help of these new friends, they just might be able to save Ilana . . . but at what cost?
This thought-provoking sequel to Megan Frazer Blakemore's stunningly imaginative novel, The Firefly Code, gives readers a chance to see our world in a brand new light
This book was sent to Compass Book Ratings for review by Bloomsbury USA
The Daybreak Bond
by Megan Frazer Blakemore
Overall Review:
Mori and her friends have done what they believed impossible: breaking out of Old Harmony, the corporate utopia in which they live. Now they must face a whole new set of challenges (in a world they know nothing about) that will threaten not only their friendships but everything they know.
Megan Frasier Blakemore out-does herself in The Daybreak Bond, the second book in The Firefly Five series. Now outside of their utopian society and the safety net that has always surrounded them, each member of the "Firefly Five" must grow up quickly if they are to reach their destination and save Ilana. Mori is once again the conduit for the story, with the reader experiencing everything with her: fear, pain, love, anger, and the beautiful responsibility she takes for herself and her friends. Blakemore manages all of this in a realistic and touching way, not shying away from the difficulty and consequences of making grown-up decisions.
The Daybreak Bond is a wonderful addition to The Firefly Five series and will leave fans at the same time satisfied and wanting more.
Content Analysis:
Profanity/Language: None
Violence/Gore: Several references to the dangers of the outside world, real and imagined; boy claps girl on shoulder; character trapped under water; references to a town flooded by a reservoir; characters chased by dog; character sustains serious bite; girl tossed rock at boy; boy pulls girl to the ground; character warns of danger; boy grabs girl's shoulder; character passes out; small animal scratches girl.
Sex/Nudity: Girls touch frequently (hugging, holding hands, etc.) in friendship but with possible(?), subtle homosexual undertones; boy and girl touch girl's back; boy flirts with girl; boy and girl hold hands.
Mature Subject Matter:
Responsibility, ethics.
Alcohol / Drug Use:
None
Reviewed By Amberle