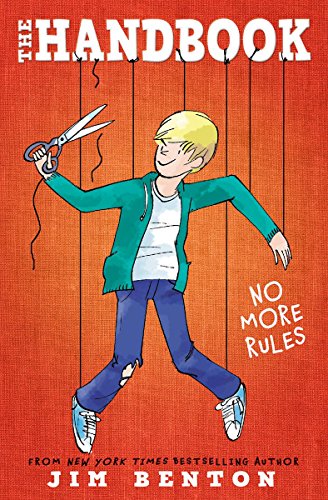 Publisher's Note:
There's nothing Jake likes more than some good trash-picking, so when his elderly neighbors move out and leave an especially promising-looking pile of household refuse on the curb, he goes right for it. He only has the chance to grab one box before his mom catches him and orders him in for dinner, though.
When mysterious goings-on begin to occur in the neighborhood, the trio investigates the hidden box from Jack's garage. In it, they find the Secret Parent's Handbook and with it all the means to subvert the irrational rules and petty tyranny of their home lives. No more clean rooms! No more vegetables! No more brushed hair or washed hands! It's all videogames and junk food all the time!
But the authorities -- and the resistance -- have taken notice of the strange goings-on in Jack and his friends' neighborhood. And they are closing in...
This book was sent to Compass Book Ratings for review by Scholastic Press (A Scholastic Imprint)
The Handbook
by Jim Benton
Overall Review:
Kids will want to read it because it will confirm all their grandest theories about their parents. Parents will want to read it just for the humor.
The Handbook is a hilarious adventure showing what the world would look like if there actually was a parenting handbook. Author Jim Benton has nailed both the story line and memorable characters.
I am convinced Mike, Jack, and Maggie are modeled after real-life kids (maybe my own). They are the absolutely spot-on. From fart humor to a bit of sassy sarcasm, these kids leap off the page. The town where they live could be your town or another other town in America and the parents, well, they are you and I (although we'd hate to admit it).
This a fantastic book that you should run out and read right now. Fit for young to old readers, everyone will enjoy this romp thru a few days in the life of three fantastic children.
Review of an Advance Reading Copy
Content Analysis:
Profanity/Language: 1 religious exclamation; 3 mild obscenities.
Violence/Gore: Kids tackle man and tie him up; bumps and scrapes from fall off bike; man tears apart walls in house; old drill shocks child when plugged in; boy accidentally gets poked in face with stick; underage boy crashes car; men shoot taser-like weapons that immobilize at children and adults, and kids return fire (five times); boy places another boy in judo hold; girl pushes boy; girl threatens to put parents in cage; playful punches to arm (twice); girl destroys computer equipment with pulse bomb.
Sex/Nudity: None
Mature Subject Matter:
None
Alcohol / Drug Use:
Boy chews on cigar, but never smokes.
Reviewed By Beckie