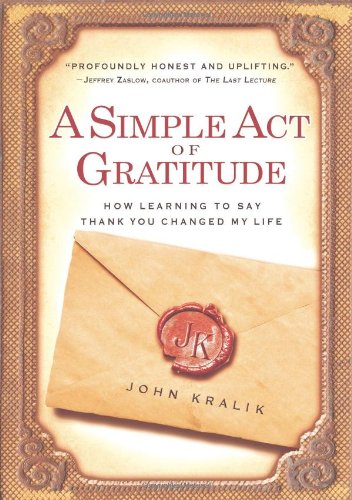 Publisher's Note:
One recent December, at age 53, John Kralik found his life at a terrible, frightening low: his small law firm was failing; he was struggling through a painful second divorce; he had grown distant from his two older children and was afraid he might lose contact with his young daughter; he was living in a tiny apartment where he froze in the winter and baked in the summer; he was 40 pounds overweight; his girlfriend had just broken up with him; and overall, his dearest life dreams—including hopes of upholding idealistic legal principles and of becoming a judge—seemed to have slipped beyond his reach.
Then, during a desperate walk in the hills on New Year's Day John was struck by the belief that his life might become at least tolerable if, instead of focusing on what he didn't have, he could find some way to be grateful for what he had.
Inspired by a beautiful, simple note his ex-girlfriend had sent to thank him for his Christmas gift, John imagined that he might find a way to feel grateful by writing thank-you notes. To keep himself going, he set himself a goal—come what may—of writing 365 thank-you notes in the coming year.
One by one, day after day, he began to handwrite thank yous—for gifts or kindnesses he'd received from loved ones and coworkers, from past business associates and current foes, from college friends and doctors and store clerks and handymen and neighbors, and anyone, really, absolutely anyone, who'd done him a good turn, however large or small. Immediately after he'd sent his very first notes, significant and surprising benefits began to come John's way—from financial gain to true friendship, from weight loss to inner peace. While John wrote his notes, the economy collapsed, the bank across the street from his office failed, but thank-you note by thank-you note, John's whole life turned around.
365 Thank Yous is a rare memoir: its touching, immediately accessible message—and benefits—come to readers from the plainspoken storytelling of an ordinary man. Kralik sets a believable, doable example of how to live a miraculously good life. To read 365 Thank Yous is to be changed.
This book was sent to Compass Book Ratings for review by Hyperion
A Simple Act of Gratitude: How Learning to Say Thank You Changed My Life
by John Kralik
Overall Review:
I thoroughly enjoyed this book from beginning to end. John Kralik's easy-going writing style grabs the reader's attention from page one and holds it as he describes his Thank You Note Project in an extremely honest and engaging way. John doesn't write thank you notes to people without finding real, heartfelt reasons to be grateful, and yet he manages to almost keep a pace of one thank you note per day. The very act of taking time to hand-write the thank you notes, along with the gratitude that fills his heart again and again as he does so, has amazing effects on his life. He also keeps a record of the notes he has written so that he can look back at the many things he has to be grateful for. This really helps on those days when it seems like the world is stacked against him. It is true for all of us, when you recognize all the many people in your life that deserve your gratitude, things just don't seem so bad.
John says it this way, "...by being thankful for what I had, I realized I had everything that I needed. Whether or not my life had changed, my experience of it, moment by moment had been transformed. When bad things happened, they might slow me, but they no longer unraveled me."
John's thank you note recipients run the gamut from the Starbucks guy to his clients that pay their bills on time. He doesn't even let a language barrier discourage him. After reading this book, you can't help but look at the people around you and things they do without thinking, "I should probably write them a little note and thank them for that." My first note is already in the mail.
Content Analysis:
Profanity/Language: 1 religious exclamation.
Violence/Gore: None
Sex/Nudity: Briefly mentions "free-love" of the 60's and what that means; one occurence of implied sexual activity.
Mature Subject Matter:
Divorce and related marital/non-marital relationships; terminal illness of a friend; death
Alcohol / Drug Use:
Extended description of underage drinking in college, but it is referred to as self-destructive behavior.
Reviewed By Ambra