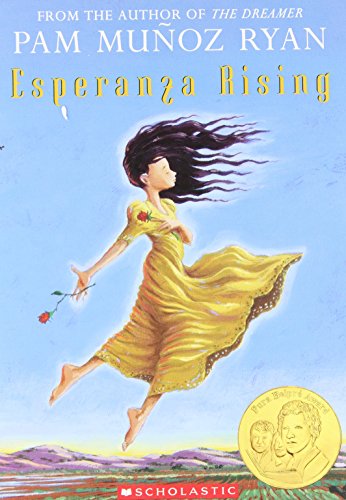 Publisher's Note:
Pura Belpré Award Winner
IRA Notable Book for a Global Society
New York Public Library's 100 Titles for Reading and Sharing

Esperanza thought she'd always live with her family on their ranch in Mexico--she'd always have fancy dresses, a beautiful home, and servants. But a sudden tragedy forces Esperanza and Mama to flee to California during the Great Depression, and to settle in a camp for Mexican farm workers. Esperanza isn't ready for the hard labor, financial struggles, or lack of acceptance she now faces. When their new life is threatened, Esperanza must find a way to rise above her difficult circumstances--Mama's life, and her own, depend on it.
Esperanza Rising
by Pam Munoz Ryan
Overall Review:
Esperanza Rising is the coming of age story of a girl who emigrates from Mexico to California just before the Great Depression. As you follow her journey, you experience her challenges as she grows and changes through each one. The descriptions throughout the book are so vivid – you can see, smell, feel, etc. what Esperanza does. The story comes full circle and does so in beautiful details.
This story is so well-written. It has received the Jane Adams – Children's Book Award and the Pura Belpre Award. While Ryan is an established author for this age group, this book is based upon her grandmother's real life experiences. It tackles real issues in a simple, clear way that educates about the facts while connecting with the people who lived during these times and struggles. Ryan's writing is real without being overbearing or graphic. It brings to life an era of history that is not common knowledge, and yet affected so many people.
Esperanza Rising is a great book for anyone who enjoys historical fiction or history in general. While a female is the main character, there is also a male character of similar age that is also relatable and informative as to male roles at the time. It highlights the Mexican and Mexican-American cultures and has Spanish idioms and phrases throughout (all translated into English and easy to decipher within context). This book also contains resources for further immersion: Q&A with the author, how to make a yarn doll, and recipe used in the book.
Content Analysis:
Profanity/Language: None
Violence/Gore: Adult character is missing; threat of bandits following the Mexican revolution; death of character – body mentioned; non-detailed description of violent death of character; house fire with two injuries; nightmare involving an animal; threatened separation from parent; recounting of robbing incident while in the house; death of minor character's parent in Mexican Revolution; striker throws rock at worker; strikers sabotage workers with rats, glass, and rattle snakes; immigration gathers strikers – citizens and non-citizens alike- and sends them back to Mexico; police with clubs mentioned; deportation involving police with clubs - threat of violence.
Sex/Nudity: 3 occurrences of holding hands.
Mature Subject Matter:
Death of parent, grief, blackmail, house fire, immigration, poverty, reduced social status, race prejudice, dust storm, strikes, Great Depression – living conditions, pay, segregation of races, parent illness, child labor, deportation.
Alcohol / Drug Use:
None
Reviewed By Lacey