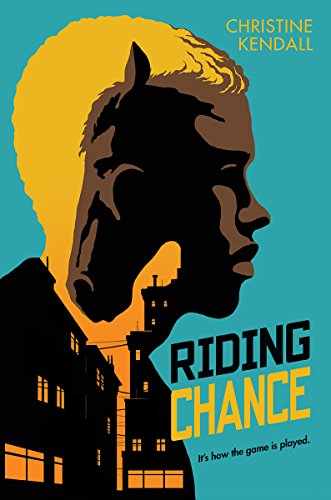 Publisher's Note:
Troy is a kid with a passion. And dreams. And wanting to do the right thing. But after taking a wrong turn, he's forced to endure something that's worse than any juvenile detention he can imagine-he's "sentenced" to the local city stables where he's made to take care of horses. The greatest punishment has been trying to make sense of things since his mom died but, through his work with the horses, he discovers a sport totally unknown to him-polo. Troy has to figure out which friends have his back, which kids to cut loose, and whether he and Alisha have a true connection. Laced with humor and beating with heartache, this novel will grip readers, pull them in quickly, and take them on an unforgettable ride. Set in present day Christine Kendall's stunning debut lets us come face-to-face with the challenges of a loving family that turn hardships into triumphs.
This book was sent to Compass Book Ratings for review by Scholastic Press (A Scholastic Imprint)
Riding Chance
by Christine Kendall
Overall Review:
Christine Kendall's YA debut novel celebrates conquering the disadvantages of your surroundings in, Riding Chance.
13-year-old Troy dictates the story in a genuine stance, that communicates where he's from and what he's about. Living among the roughness of inner-city Philadelphia, Troy struggles with the antitheses between being hard and soft. The streets want him hard, but when he's sent to an at-risk youth program in Fairmont Park, that pairs struggling adolescents with horses, his hard shell begins to crack, and he realizes that his false bravado is holding him back. The horses, and one horse in particular, help Troy realize the advantage of having a soft touch, and how relationships are built on honesty and trust.
The supporting cast projects the truth of how important it is to have mentorship and encouragement when you are seeking to make a positive change in your life. This support can come in many forms and even from the most unlikely of people.
The usage of actual places makes the characters and their surroundings feel visceral and added an ingrained connection to what was taking place.
Unfortunately, the story never really gains momentum and can be described as more of a canter, rather than a gallop. And while there is some conflict that adds to character development, the resolution came quickly and was a bit anticlimactic, especially the ending.
Readers with an affinity for animal novels will revel in the unique take on at-risk youth and polo ponies. While there are some great boy and dog novels, as well as boy and horse fiction out there, they tend to be historically based, so finding one that is contemporary that also deals with a relevant topic such as racial discrimination, is an added bonus. Another fun aspect is the insertion of a sport that is not as widely known.
Not everyone is fortunate enough to be given the opportunity to make a needed change, but luckily for Troy that moment of hope comes in the form of a horse named Chance.
Content Analysis:
Profanity/Language: 1 religious profanity; 1 scatological word; 1 anatomical term.
Violence/Gore: Mention of being a witness to a mugging; character reports that their neighborhood is violent, an individual was shot; remark about violence at school; report of particular teens on drugs who were caught breaking and entering; joke of violence (about 3x); extended scene (about ½ page) police use force against adolescent who they believe is a threat; threat made; a character kicks an animal in anger; character trips another character causing injury; character is deliberately pushed off an animal while playing a sport, injuries mentioned.
Sex/Nudity: A few remarks about males looking at females; female is described as hot; horse is compared to having a girlfriend; a few mention of adults dating; mention of adolescent male having a girlfriend.
Mature Subject Matter:
Death of parent(s), juvenile delinquency, racial discrimination.
Alcohol / Drug Use:
Adolescent encounters drunk adults at a high-end event; report of particular teens on drugs who were caught breaking and entering; 2 drug references; champagne is served to adults at party; 2 alcohol references.
Reviewed By MaryLou