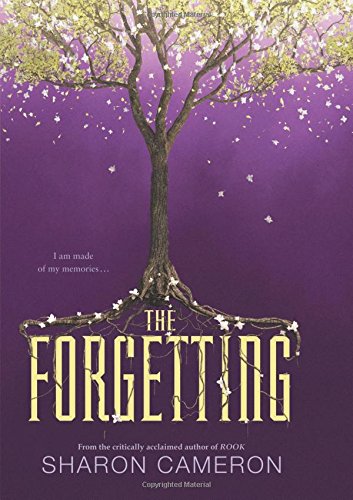 Publisher's Note:
What isn't written, isn't remembered. Even your crimes. Nadia lives in the city of Canaan, where life is safe and structured, hemmed in by white stone walls and no memory of what came before. But every twelve years the city descends into the bloody chaos of the Forgetting, a day of no remorse, when each person's memories -- of parents, children, love, life, and self -- are lost. Unless they have been written.

In Canaan, your book is your truth and your identity, and Nadia knows exactly who hasn't written the truth. Because Nadia is the only person in Canaan who has never forgotten.

But when Nadia begins to use her memories to solve the mysteries of Canaan, she discovers truths about herself and Gray, the handsome glassblower, that will change her world forever. As the anarchy of the Forgetting approaches, Nadia and Gray must stop an unseen enemy that threatens both their city and their own existence - before the people can forget the truth. And before Gray can forget her.
This book was sent to Compass Book Ratings for review by Scholastic Press (A Scholastic Imprint)
The Forgetting
by Sharon Cameron
Overall Review:
If you enjoyed acclaimed YA author Sharon Cameron's Rook, you'll no doubt be just as pleased with her latest novel, The Forgetting.
Though the setting differs, the plot and protagonists have just enough similarities to the aforementioned novel for fans to appreciate what Cameron's newest creation concocts.
Set in what first appears to be a European, primitive-like society, where craft and tradesmen are common, Nadia, of the city Canaan, fears she'll be found out, for the truth isn't always what it seems.
"When I was a child, wanting to know the truth was called curiosity.
Now that I am grown, the truth I want to know is called a crime."
Presented in first person, protagonist Nadia is quiet on the surface, but a rebellion brews on the inside that's about to spill over and take the whole city with it. And, there to help her along the way (whether she likes it or not) is romancer Gray. Don't let the name fool you, for Gray often brings comic relief and some lighter moments to coincide with Nadia's more tumultuous nature. And like Nadia, he isn't what he presents himself to be – a mischievous, flirtatious exterior envelopes a smart and sensitive man that helps give Nadia the ability to remember what it means to be courageous.
What starts off as a romantic fantasy seamlessly takes off into a mysterious sci-fi that begs the question--how in the world did the author just pull that off? A passive beginning and mystifying middle, all make way for a speed read ending that erupts with action.
This fantasy sci-fi mash-up with similarities to Lois Lowry's The Giver, will be most memorable to middle school aged children and adults who enjoy author Margaret Peterson Haddix's novels.
Content Analysis:
Profanity/Language: None
Violence/Gore: A few times character fears they'll be hurt by government for defying rules; mention of character seeing other character's scars from a violent government punishment; memory of child slapping another child; memory of violence, mention of blood; few mentions of character being punished with violence by government; memory of seeing child being hit; playful slap; report of character cutting themselves with the intent to harm, blood mentioned; report of previous violent incident; report of violence (about 2x); previous mention of self-harm; implication of violence (2x); few jokes of punching and/or being punched; report of character hitting another character; character is shocked to seen an animal eating another animal while watching image on screen; report of possible suicide; report of violent civil strife (about 2x) includes mentions of blood and a death; memory of witnessing violent acts; threat of violence against characters' relatives; extended scene (about 1 page) characters are treated roughly while they are tied up and held against their will, injuries mentioned; character in unwillingly injected with a serum; threat of mass murder; extended scene (about 1 page) character is tortured with acid like liquid; mention of torture victim's injuries; extended scene description of characters injuries; character knocks another character hard in the head (later revealed character is dead); character sets fire to building with people inside; male character pulls female character close to himself with threats to rape her; implications of mass violence in city streets, characters see dead bodies; character has violent thought; extended scene (about 1 page) character cuts character then runs after another character with knife; report of character's violent acts; character attacks another character; adult holds knife to child's chest in a threatening manner, character tackles knife-wielding character; extended bloody scene (about ½ page) character stabs another character; revelation that adult killed a child with poison as a botched experiment; suspicion of suicide.
Sex/Nudity: A few times public bathhouses are used (non-sexual); sexual references 4; character sees a couple hold hands; rumor/implication that characters may have spent the night together and possibly be a couple; few times male pats down females in an attempt to search them; mention of dating; a few mentions of male and female embracing; few mentions of male and female kissing; extended scene (about ¼ page) female runs hands over male's bare chest; a few mentions of male and female holding hands; extended scene (about 2 pages) male and female kiss and touch/caress one another; extended scene (about ½ page) characters kiss; declaration of love (about 2x); extended scene (about 1 ½ pages) male and female kiss and touch/caress while on bed; character pulls female character close to himself with threats to rape her; revelation that male character has feelings for another male character; report of unmarried characters sleeping next to one another (non-sexual).
Mature Subject Matter:
Tyranny, social injustice(s), corrupt leadership, deceit, parental abandonment, mental illness/parent's mental illness/self-harm, infidelity/unfaithfulness.
Alcohol / Drug Use:
A few mentions on the making and consuming of moonshine; characters (under 21 drink) a few times; a few times in which sleep-inducing agent is used; few times character(s) is drugged with mind toxin.
Reviewed By MaryLou