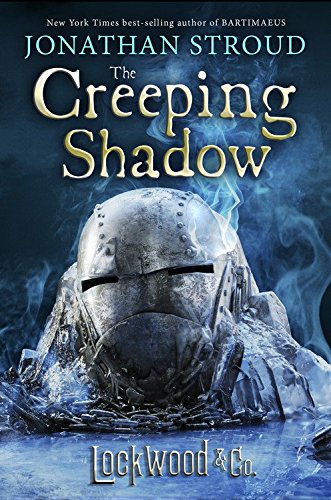 Publisher's Note:
After leaving Lockwood & Co. at the end of The Hollow Boy, Lucy is a freelance operative, hiring herself out to agencies that value her ever-improving skills. One day she is pleasantly surprised by a visit from Lockwood, who tells her he needs a good Listener for a tough assignment. Penelope Fittes, the leader of the giant Fittes Agency wants them--and only them--to locate and remove the Source for the legendary Brixton Cannibal. They succeed in their very dangerous task, but tensions remain high between Lucy and the other agents. Even the skull in the jar talks to her like a jilted lover. What will it take to reunite the team? Black marketeers, an informant ghost, a Spirit Cape that transports the wearer, and mysteries involving Steve Rotwell and Penelope Fittes just may do the trick. But, in a shocking cliffhanger ending, the team learns that someone has been manipulating them all along. . . .
The Creeping Shadow
by Jonathan Stroud
Overall Review:
Jonathan Stroud continues the Lockwood & Co. series with The Creeping Shadow. If this is the first you are hearing of the series, it is strongly recommended that you start from the beginning. There are a lot of references to previous events and characters. Another reason to read them all is because Stroud has excellent descriptive writing.
The words Stroud uses paint incredible mental pictures and truly bring the story to life. Readers will find themselves breathing in the musty dusty attic air and brushing cobwebs from their hair. Add to this vivid imagery intense creepy ghost encounters and you will be on the edge of your seat.
It is obvious from the ending of this particular novel that there will be at least one other book in the series and hopefully a few more than that. If Jonathan Stroud continues his current writing style, the books are sure to be a hit. Be ready for some eerie and mysterious adventures with Lucy and Lockwood as they uncover the secret of The Creeping Shadow.
Content Analysis:
Profanity/Language: 8 religious exclamations.
Violence/Gore: Report of a person killing a child and attempting to kill a spouse; report of a character murdering and consuming a person, there are several references and jokes about this; many reports of a person being killed by ghosts; several multi-chapter scenes of paranormal activities in which ghosts are attempting to touch or harm living people; report of a person being hung; character threatens to smash another; a person is bleeding from an injury presumably caused by a ghost; a person puts another into a choke hold; a character spies a person whose neck has been broken; a ghost suggests ways in which people can be killed; report of a battle having taken place in an area and there were lots of fatalities; a characters suggest a child needs punching; several pages cover a fight in which there is a sword battle and explosions, including destruction of buildings, there is a fatality and ghosts are also involved; a character mentions being "whipped naked.; several instances in which paranormal creatures are killed with various weapons and techniques; one extended scene with a ghost that practiced cannibalism when alive and many disturbing references to this.
Sex/Nudity: Characters hold hands (mainly for comfort).
Mature Subject Matter:
Death of family members, death, murder, paranormal, cannibalism.
Alcohol / Drug Use:
Adult sips beer and asks for more.
Reviewed By Susan