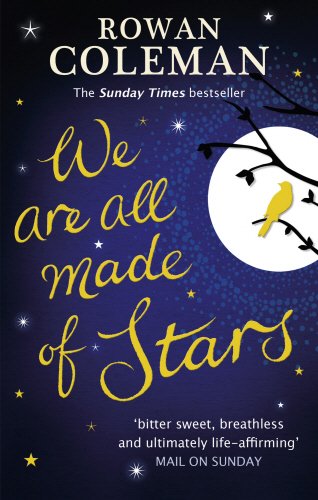 Publisher's Note:
Rowan Coleman's beautiful, life-affirming novel tells an unforgettable story about second chances, the power of words, and the resilience of the heart.

A dedicated nurse, Stella finds comfort at the hospice where she works the late shift, especially since her husband returned from Afghanistan—cold, distant, and shattered by painful memories he refuses to share. The hospice at night is another world, where the dying receive closure by creating the letters that Stella helps them write. The pages are filled with love and humor, sometimes regret, and, occasionally, even instructions for a perplexed husband on how to run appliances. There's one rule: The letters are mailed only after the patient has passed.

Suddenly Stella is faced with a dilemma: A woman under her care, Grace, has written a confession to the son she abandoned many years before. The letter clearly needs to be read before Grace dies. But if Stella mails it now, she breaks the rule—and risks tampering not only with Grace's wishes but also with fate.

Navigating passion and grief, loyalty and loss, and a marriage threatened by silence and secrets, Stella discovers that letters hold a special power: granting solace, saving memories, nurturing relationships. As the words endure, love redeems.
This book was sent to Compass Book Ratings for review by Random House
We Are All Made of Stars
by Rowan Coleman
Overall Review:
We Are All Made of Stars is contemporary fiction that will tug at heartstrings. This beautifully crafted novel deals with tough subject matter, including terminal illness, deployment and death. Despite such emotionally-charged topics, author Rowan Coleman manages to make the story charming, poignant and even a bit irreverent and humorous at times. We Are All Made of Stars takes place over a week, and features several of the main characters as alternating narrators. Part of the story's appeal is trying to discover how the characters are related and interconnected. Letters also play a prominent role in the plot and their inclusion adds levity, laugher, and even tenderness when needed. We Are All Made of Stars is a character-driven story, and one worth reading!
Review of an Advance Reader Copy
Content Analysis:
Profanity/Language: 20 religious exclamations, 11 mild obscenities, 2 religious profanities, 10 derogatory names, 36 scatological words, 44 f-word derivatives.
Violence/Gore: An implied occurrence of violence involving screaming; a few secondhand reports of violence, including a car accident, rocket attack and a child punches another child; a few brief scenes of violence involving characters hitting or punching others; in a few non-detailed scenes of violent death, characters are caught in an ambush; a brief scene of blood and gore recounts an explosion and its aftermath.
Sex/Nudity: Several incidents of kissing; multiple sexual references including slang for male and female genital and remarks that a character's tight pants reveal his genitals; multiple implied or reported incidents of sexual activity; a few incidents of touching areas normally covered by a bathing suit; a few brief scenes of nudity with sexual innuendo; several discussion regarding sex between characters, with one discussion lasting over a page long; a brief scene of sexual activity without explicit details between adults; a few brief, yet explicit descriptions of sex between adults.
Mature Subject Matter:
Death, deployment, gambling, divorce, transgender, homosexuality, use of drugs, excessive drinking, hospice, cystic fibrosis, extramarital affairs, abandonment, jail time, adoption, mention of possible suicide, prosthetic leg.
Alcohol / Drug Use:
Frequent drinking, including characters drinking in social settings, over-drinking and a woman describing herself as an "alcoholic"'; smoking and drug use also occur throughout the book.
Reviewed By Rachel