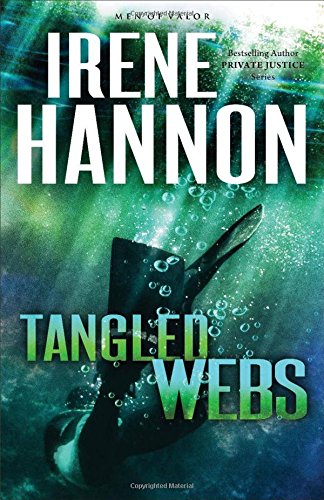 Publisher's Note:
Three-Time RITA Award Winner Delivers Another Heart-Stopping Thriller

After a disastrous Middle East mission ends his six-year Army Ranger career, Finn McGregor needs some downtime. A peaceful month in the woods sounds like the perfect way to decompress. But peace isn't on the agenda once he crosses paths with publishing executive Dana Lewis, a neighbor who is nursing wounds of her own. Someone seems bent on disrupting her stay in the lakeside cabin she inherited from her grandfather. As Finn and Dana work together to discover who is behind the disquieting pranks, the incidents begin to take on a menacing tone. And when it becomes apparent Dana's foe may have deadly intent, Finn finds himself back in the thick of the action--ready or not.

Bestselling author Irene Hannon draws readers into a web of psychological suspense where danger lurks in dark corners . . . and keeps them captive until the very last page.
This book was sent to Compass Book Ratings for review by Revell
Tangled Webs
by Irene Hannon
Overall Review:
Irene Hannon's Men of Valor series concludes with Tangled Webs. This book is about the third McGregor brother, Finn. Much of the story follows the same pattern as those of the previous books. Specifically, there is a female who ends up needing the help of the male lead and naturally the two develop a romantic relationship. This is where the book rather dramatically diverges from the other two. There is no edge of your seat, nail biting, can't stop reading it action. Although there is nothing wrong with having a less intense story, the expectation is there and thus the book falls a little short.
Aside from the aforementioned deviation, the story does not have a brisk pace. The romantic aspects were satisfactory, but the characters seem to turn up the level of cliché, cheesy comments near the end. The characters were fairly likeable and without giving away too much, the main female character Dana turns out to be pretty awesome near the end.
Another interesting thing the author does is give nearly all of the details about the villains of the story. The reader knows everything before it happens. It really detracts from the intensity and mystery. This choice also sheds some interesting light on the bad guys. Not all poor choices are a result of purely evil intentioned individuals.
Give this book a shot and see how it compares to others in the series. If the other books are not your favorite due to the twisted criminal minds, this novel might be more appealing.
Review of an Advance Reader's Copy
Content Analysis:
Profanity/Language: None
Violence/Gore: Report of a person being killed in a shootout; character recalls several incidences in war including a fatal helicopter crash and an instance where a child is shot, because he was used as a war pawn; character threatens to hurt another; a character recalls being a hostage and held at gunpoint; characters are tied up, threatened with guns and knives, shot at and a fatalities occur, a couple of brief mentions of blood.
Sex/Nudity: Non-married characters kiss and embrace many times.
Mature Subject Matter:
Post-traumatic Stress Disorder, death of family members, Alzheimer's disease, military conflict.
Alcohol / Drug Use:
There is a meth lab in the story, but no indication of actual drug use.
Reviewed By Susan