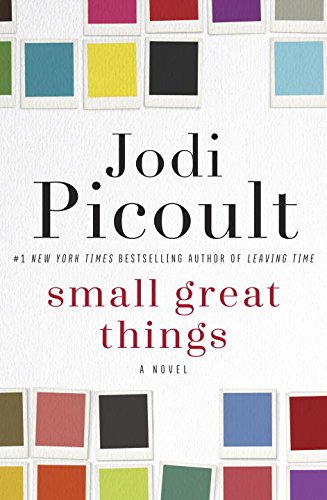 Publisher's Note:
This stunning new novel is Jodi Picoult at her finest—complete with unflinching insights, richly layered characters, and a page-turning plot with a gripping moral dilemma at its heart.

Ruth Jefferson is a labor and delivery nurse at a Connecticut hospital with more than twenty years' experience. During her shift, Ruth begins a routine checkup on a newborn, only to be told a few minutes later that she's been reassigned to another patient. The parents are white supremacists and don't want Ruth, who is African American, to touch their child. The hospital complies with their request, but the next day, the baby goes into cardiac distress while Ruth is alone in the nursery. Does she obey orders or does she intervene?

Ruth hesitates before performing CPR and, as a result, is charged with a serious crime. Kennedy McQuarrie, a white public defender, takes her case but gives unexpected advice: Kennedy insists that mentioning race in the courtroom is not a winning strategy. Conflicted by Kennedy's counsel, Ruth tries to keep life as normal as possible for her family—especially her teenage son—as the case becomes a media sensation. As the trial moves forward, Ruth and Kennedy must gain each other's trust, and come to see that what they've been taught their whole lives about others—and themselves—might be wrong.

With incredible empathy, intelligence, and candor, Jodi Picoult tackles race, privilege, prejudice, justice, and compassion—and doesn't offer easy answers. Small Great Things is a remarkable achievement from a writer at the top of her game.
This book was sent to Compass Book Ratings for review by Random House
Small Great Things: A Novel
by Jodi Picoult
Overall Review:
I have been so impressed with Jodi Picoult's last few books, and so I can't really say I was surprised that this, her newest novel, is superb. I inherited the love of medical books from my mom, and although this is by all means fiction, there are so many scenes in Small Great Things that I am sure could happen every day within the walls of a hospital or doctor's office.
Picoult's characters are always so relatable; whether you work in a similar career area, or know someone who does, whether you have a family member like one of them, or one that reminds you of yourself. This book was so good in so many ways. I can't wait to finish up this review so I can let my mom borrow this book. I think she (and everyone) will really enjoy this book for many reasons, but mostly because of how it really tugs on your heartstrings.
One of the things that is a predictable part of Jodi Picoult's books is how she breaks up the story with chapters or sections from the point of view of each unique protagonist. I love getting this little peek into the characters' lives and learning intimate details about how they live and who they are. This novel is no different, as we have three main characters to get to know. For me, something that was a unusual is that I couldn't decide who my favorite character was! I usually pinpoint one that I am more interested in, but I never did in this book.
All in all, Small Great Things is a fabulous read that I am going to be talking about to whoever will listen. I know, Jodi Picoult is such a big name that she probably doesn't need any more promotion, but I think she deserves it. She really touches on some tough subjects in this one, like she has done in many previous books, but the end result is worth it.
Review of an Advance Reader's Copy
Content Analysis:
Profanity/Language: 17 religious exclamations; 20 mild obscenities; 50 derogatory names; 27 scatological words; 9 anatomical terms; 31 F-Word derivatives.
Violence/Gore: A woman is briefly described giving birth to a baby, some blood is mentioned; verbal threats are made; a baby dies after medical complications; a mass murder is mentioned; a character is charged with assault; a woman is accused of killing an infant; a baby is violently treated to try to start it's heart beating again; a man mentions his older brother was killed in a car crash; a fatal injury is mentioned with no detail; two men get into a fight, some blood is mentioned briefly; a man is mentioned to start fights based on a hated sect or individual; a sexually assaulted woman is mentioned to have a child.
Sex/Nudity: A woman is referred to as sexy; a twisted Bible story is told, it is stated that Eve had sex with the snake; a character denies that they "sext"; adults kiss several times; a man and woman are implied to have sex (steamy scene, and then the man recalls waking up beside his girlfriend in a pile of their clothes); a lewd comment is made about the genitals; a sexually assaulted woman is mentioned to have a child.
Mature Subject Matter:
Racism, loss of a child, personal crises, loss of a loved one, gender identity issues, hate crimes, assault.
Alcohol / Drug Use:
Adults drink hard liquor; smoking dope is mentioned; adults smoke cigarettes; a woman is mentioned to have a drinking problem; wine is drunk multiple times.
Reviewed By Lydia