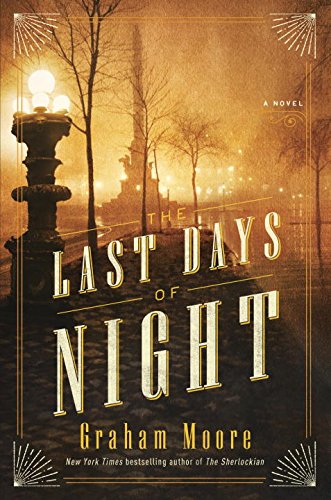 Publisher's Note:
From Graham Moore, the Academy Award–winning screenwriter of The Imitation Game andNew York Times bestselling author of The Sherlockian, comes a page-turning historical thriller—a novel based on actual events—about the nature of genius, the cost of ambition, and the battle to electrify America.

New York, 1888. The miracle of electric light is in its infancy, and a young untested lawyer named Paul Cravath, fresh out of Columbia Law School, takes a case that seems impossible to win. Paul's client, George Westinghouse, has been sued by Thomas Edison over a billion-dollar question: Who invented the light bulb and holds the right to power the country?

The case affords Paul entry to the heady world of high society—the glittering parties in Gramercy Park mansions, and the more insidious dealings done behind closed doors. The task facing Paul is beyond daunting. Edison is a wily, dangerous opponent with vast resources at his disposal—private spies, newspapers in his pocket, and the backing of J. P. Morgan himself. Yet this unknown attorney shares with his famous adversary a compulsion to win at all costs. How will he do it? In obsessive pursuit of victory, Paul crosses paths with Nikola Tesla, an eccentric, brilliant inventor who may hold the key to defeating Edison, and with Agnes Huntington, a beautiful opera singer who proves to be a flawless performer on stage and off. As Paul takes greater and greater risks, he'll find that everyone in his path is playing their own game, and no one is quite who they seem.
This book was sent to Compass Book Ratings for review by Random House
The Last Days of Night
by Graham Moore
Overall Review:
Graham Moore's The Last Days of Night is dazzling. Moore, the Academy Award-winner for Best Adapted Screenplay (The Imitation Game), delves into nineteenth century America and the patent war between Thomas Edison and George Westinghouse. The story is narrated by young Paul Cravath, Westinghouse's new (and very green) attorney. At first glance, the subject matter seems dreadfully boring, but Moore's expert pacing, plot and character development create a dramatic and entertaining story. While the novel is historical fiction, the characters are real men and women and most events really took place. Moore does include a lot of technical explanations of creating light, but most descriptions were easy to understand. The Last Days of Night is a highly recommended book. Read it before the major motion picture, starring Eddie Redmayne, is released!
Review of an Advance Reader's Copy
Content Analysis:
Profanity/Language: 15 religious exclamations; 28 mild obscenities; 8 religious profanities; 3 anatomical terms; 1 derogatory name; 3 scatological words.
Violence/Gore: Several secondhand reports of violence including an assassination, arson, and a man murdering his wife; a few brief scenes of violence involve arson and a character being slapped; dogs are electrocuted in two brief non-detailed scenes of violent death; a few brief scenes of intense violence when a dog is electrocuted, as well as an attempt at execution by electric chair.
Sex/Nudity: A few incidents of kissing; a few sexual references and an implied account of underage sexual activity.
Mature Subject Matter:
Bribery, corruption, prescription drugs, breaking and entering/stealing, arson, accidental electrocution, death by electric chair.
Alcohol / Drug Use:
A few characters smoke; a couple is drunken; a few scenes take place at an alehouse; a character talks of wanting to be drunk.
Reviewed By Rachel