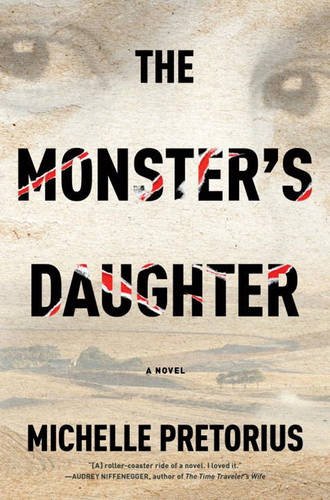 Publisher's Note:
Somewhere on the South African veld, 1901: At the height of the Boer War, a doctor at a British concentration camp conducts a series of grim experiments on Boer prisoners. His work ends in chaos, but two children survive: a boy named Benjamin, and a girl named Tessa …

One hundred years later, a disgraced young police constable is reassigned to the sleepy South African town of Unie, where she makes a terrifying discovery: the body of a woman, burned beyond recognition.

The crime soon leads her into her country's violent past—a past that includes her father, a high-ranking police official under the apartheid regime, and the children left behind in that long ago concentration camp.

Michelle Pretorius's epic debut weaves present and past together into a hugely suspenseful, masterfully plotted thriller that calls to mind Lauren Beukes's The Shining Girls and Tana French's The Secret Place. With an explosive conclusion, it marks the emergence of a thrilling new writer.
This book was sent to Compass Book Ratings for review by Random House
The Monster's Daughter
by Michelle Pretorius
Overall Review:
History and mystery, woven together into a tapestry that spans years, The Monster's Daughter is a book that may not appeal to everyone, but it stood out to me in a few ways. First, I spotted the word "concentration camp" in the synopsis and assumed that this book might be about World War II (which was a mistake on my part). Second, this book sounded like something I would like simply because of the mysterious elements.
I neither loved this book, nor hated it. After reading it, I would compare the author's style to that of Tana French, an author who I have thoroughly enjoyed over the years. There wasn't anything I actively disliked about this book, it simply didn't intrigue me as much as I thought it would. It's still worth reading though. For one, it shows that history, crime, and memory can last decades. For another, the author's writing style is unique and does move along quite quickly.
For me, what makes or breaks a book is often the characters and how relatable they are to me and my life. In the case of The Monster's Daughter I didn't find a character I could really relate to, so it was hard for me to stay focused on the lengthy story. The end made the wait worth it though, so don't get too discouraged early on--stick it out!
Review of Advance Reader's Copy
Content Analysis:
Profanity/Language: 7 religious exclamations; 5 mild obscenities; 7 derogatory names; 6 scatological words; 2 anatomical terms; 12 F-word derivatives.
Violence/Gore: A car wreck is mentioned to occur, a character is injured but there are no casualties; a body is found dead and burned beyond recognition; a person is mentioned to be shot and have a bullet hole on their forehead; a group of soldiers destroy a house; a boy is mentioned to have been burned intentionally; an injured woman is found on a road with blood on her clothes; the charred remains of a body is found; a woman is mentioned to find her husband dead in the bathtub, suicide is implied; guns are shot; a boy is seen injured and abuse is mentioned to be the cause of the injuries.
Sex/Nudity: Women are called whores but there is no indication that there is prostitution occurring; a man implies that he had sex with a minor; a character is referred to as "sexy"; an unmarried woman tries to seduce a man, nudity occurs between them and they eventually have sex, no explicit detail is given; a kiss on a cheek is exchanged between a man and a woman.
Mature Subject Matter:
Murder, death, personal crises, suicide, abuse.
Alcohol / Drug Use:
Hard liquor is consumed by adults; drug running is mentioned; beer is consumed by adults.
Reviewed By Lydia