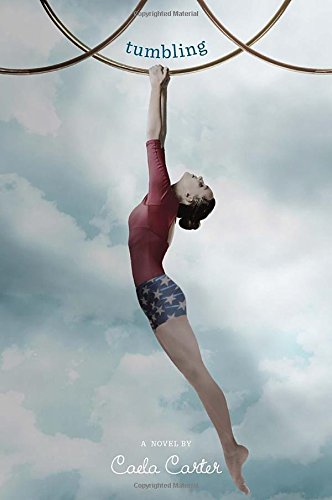 Publisher's Note:
Work harder than anyone.
Be the most talented.
Sacrifice everything.
And if you're lucky, maybe you will go to the Olympics.

Grace lives and breathes gymnastics—but no matter how hard she pushes herself, she can never be perfect enough.

Leigh, Grace's best friend, has it all: a gymnastics career, a normal high-school life... and a secret that could ruin everything.


Camille wants to please her mom, wants to please her boyfriend, and most of all, wants to walk away.

Wilhelmina was denied her Olympic dream four years ago, and she won't let anything stop her again. No matter what.

Monica is terrified. Nobody believes in her—and why should they?

By the end of the two days of the U.S. Olympic Gymnastics Trials, some of these girls will be stars. Some will be going home with nothing. And all will have their lives changed forever.
This book was sent to Compass Book Ratings for review by Viking Books for Young Readers
Tumbling
by Caela Carter
Overall Review:
The timing of the release of Tumbling by Caela Carter could not be more perfect. As we all gear up for another fantastic summer Olympics, a book about the Olympic gymnastics trials and how a group of girls face them could not be more appropriate.
This book was a bit of a vortex. It starts off completely non-assuming. A simple tale about five elite gymnasts and the two days of Olympic trials that will propel them to the Olympics in Rome. But the next thing you know, you are wound in a story of inner-monologues, mean girl intrigue, competing obligations of personal dreams and parental hopes, boys, crushes, friends, and everything else a teenage girl could possible encompass.
I'm not normally a fan of books that jump back and forth between perspectives. This book does a round robin, jumping from girl to girl and shows the same situation from multiple perspectives. The transitions in this book were so well done, however, that I found myself not minding the shift at all.
As the characters find themselves and their place in the world toward the end of the novel, you feel like you are part of the audience there at the Metroplex. Cheering for each young lady as she lands on her feet, not just in gymnastics, but in life. I highly recommend this bright and insightful read to all the dreamers out there.
Review of an Advance Reader's Copy
Content Analysis:
Language: 14 religious exclamations; 7 mild obscenities; 4 derogatory names; 5 scatological words; 7 anatomical terms.
Violence/Gore: Retelling of car accident; character falls from apparatus and hits head.
Sex/Nudity: Girl recounts getting bikini wax; discussion of butt glue for keeping leotard in place; several references to character being a lesbian.
Mature Subject Matter:
Homosexuality (lesbian), parental abandonment, body image, eating disorders, depression.
Alcohol / Drug Use:
None
Reviewed By Beckie