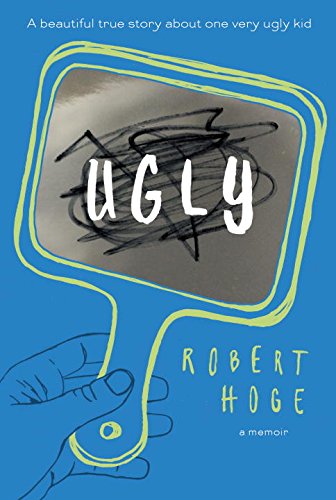 Publisher's Note:
"We all have scars only we can own."

When Robert Hoge was born, he had a tumor the size of a tennis ball in the middle of his face and short, twisted legs. Surgeons removed the tumor and made him a new nose from one of his toes. Amazingly, he survived—with a face that would never be the same.

Strangers stared at him. Kids called him names, and adults could be cruel, too. Everybody seemed to agree that he was "ugly." But Robert refused to let his face define him. He played pranks, got into trouble, had adventures with his big family, and finally found a sport that was perfect for him to play.

Then Robert came face to face with the biggest decision of his life.

This life, this funny, moving, and true story of an ordinary boy with an extraordinary face is perfect for fans of Wonder and shows how what makes us "ugly" also makes us who we are.
This book was sent to Compass Book Ratings for review by Viking Books for Young Readers
Ugly
by Robert Hoge
Overall Review:
There are not a lot of middle grade memoirs out there, but Ugly by Robert Hoge is a true middle grade memoir in every sense of the word. It covers the first fourteen years of the author's life and is written in a simple, direct, and amiable style that directly targets elementary and middle schoolers. It flows right along and has artwork to complement some of the author's anecdotes. The memoir touches not only on the physical disabilities that Mr. Hoge was born with, but also on some of the typical experiences all kids have growing up. This is key--it shows that all children, regardless of their situation, have more in common than they have different. Being born with severe deformities, this book had the potential to be so heart-wrenching that it would be unbearable, but Mr. Hodge, while being honest about the difficulties, gave fair time to the good things in his life. And, perhaps the most important lessons he shares is that recognizing and owning who we are can set us free. Sometimes truth is better than fiction so this is a read that is highly recommended!
Content Analysis:
Profanity/Language: None (Note: British term "bloody" not tallied.)
Violence/Gore: Individual falls upon occasion, minor bumps and bruises; individual crashes a bike, minor injuries; a basic, factual description of a surgery that involves amputation and reconstruction of face, mention of necessity of blood transfusions; teacher swatted students hands with cane as punishment; teacher swats students on backside with hand as punishment; brief description of post-operation procedure that was quite painful and caused bleeding.
Sex/Nudity: Individual tells about his first crush; individual becomes interested in girls; doctors suggest it would be beneficial for an individual's romantic prospects in puberty if he had plastic surgery.
Mature Subject Matter:
Birth defects, bullying, insensitive adults, abandonment.
Alcohol / Drug Use:
Mother tells son she was taking medication when she was first pregnant and didn't know she was pregnant.
Reviewed By Cindy