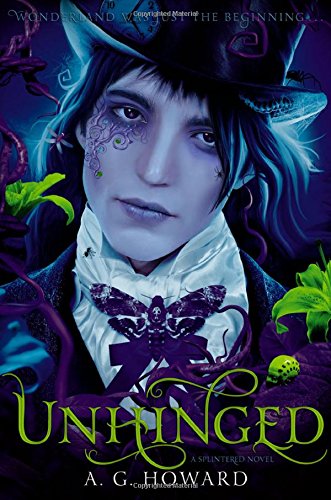 Publisher's Note:
Alyssa Gardner has been down the rabbit hole. She was crowned Queen of the Red Court and faced the bandersnatch. She saved the life of Jeb, the boy she loves, and escaped the machinations of the disturbingly appealing Morpheus. Now all she has to do is graduate high school.
That would be easier without her mother, freshly released from an asylum, acting overly protective and suspicious. And it would be much simpler if the mysterious Morpheus didn't show up for school one day to tempt her with another dangerous quest in the dark, challenging Wonderland—where she (partly) belongs.
Could she leave Jeb and her parents behind again, for the sake of a man she knows has manipulated her before? Will her mother and Jeb trust her to do what's right? Readers will swoon over the satisfying return to Howard's bold, sensual reimagining of Carroll's classic.

Read all the books in the New York Times bestselling Splintered series: Splintered (Book 1), Unhinged(Book 2), Ensnared (Book 3), and Untamed (The Companion Novel).
Unhinged
by A.G. Howard
Overall Review:
Unhinged is the second in the four book Splintered series by A.G. Howard. While this book picks up where book one ended, the first few chapters feel a little disjointed as the author starts the story with a gap in time, but then later goes back and fills in the missing pieces. I felt a little lost at first, but by chapter four I felt like I had been filled in and wasn't missing anything essential.
All your favorite characters from book one were back in action. And if you were looking for more awkwardness and indecision from the Alyssa-Jeb-Morpheus trio, then you won't be disappointed. One of my favorite things about this book was the integral role that Alyssa's mom now plays and boy are you in for some surprises there!
For fans of the Wonderland side of the first novel, you'll be a bit disappointed. The vast majority of this book takes place in the human realm. However, I am willing to bet the third novel is probably the exact opposite.
This second of three (or four if you count the book of smaller novellas) ends on a cliffhanger so make sure you have the third book available. Overall a good read for fans of the fantasy genre and especially those who dream in technicolor.
Content Analysis:
Profanity/Language: 2 mild obscenities, 1 anatomical term.
Violence/Gore: Artist uses human blood in artwork; head is accidentally banged against wall while underwater; teen punches another in the ribs; teen is almost drowned in mud and water; teen is elbowed in ribs; teen rips out IV twice and blood drips; reference to scars from suicide attempt on teen's arm; reference to losing one's head (twice); animated shelves try to bite child and eat toys; toys are mutated and gruesome; evil toy chases child; car gets stuck on railroad tracks and train barrels toward car; teen pins another to hood of car; adult cuts hand on piece of broken mirror; rabbit is shocked by electric eels; teen slaps adult's hand away; teen lies about pushing mom; adult relates car accident; shoving match between teens; teen falls and hits head on table knocking self-unconscious; ghost-like creatures fly around room;, room is set on fire by character; animal scratches teen and draws blood; teen strangles another teen (no death); hand reaches out from corpse wrapped in spider web and grabs teen's wrist; teen threatens to kill another; character has bloody scarred face; adult relives accident when she cut her child's hands; tables are knocked over and destroyed in anger; retelling of teen banging head against cage bars; extended scene were three teens and adult fight an army of evil toys that bite, scratch, kick and try to subdue humans; evil toys are shot with paint guns during extended scene.
Sex/Nudity: Teens kiss, hug and hold hand many times; adults kiss (twice); teen embrace/cuddle; teen holds another seductively around waist; teen places hand on another's thigh; teen disrobes from waist up (twice); teen disrobes to get in shower (mention of bra and panties, but nudity only implied); teens talk about having sex (no graphic detail); sprite (fairy) is naked; sexual innuendo between teen characters few times; teen caresses another's face.
Mature Subject Matter:
War, suicide attempt, mental disorder.
Alcohol / Drug Use:
Character noted to smell like hookah smoking.
Reviewed By Beckie