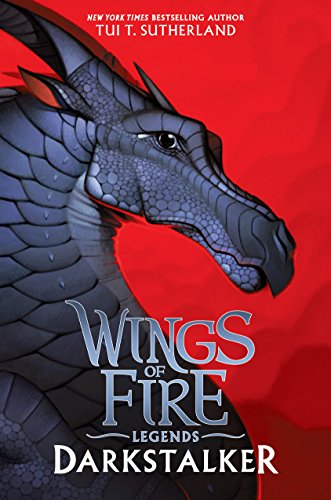 Publisher's Note:
Three dragons. One unavoidable, unpredictable destiny. This is the beginning... of the end.

In the SeaWing kingdom, a young prince learns he is an animus -- capable of wonderful magic that comes with a terrible price.

In the mind of a NightWing dragonet, a thousand futures unfold -- and almost all of them, she knows, lead to disaster and destruction.

And under three full moons and the watchful eyes of his NightWing mother and IceWing father, the most powerful dragon Pyrhhia will ever know is clawing his way out of his egg. Darkstalker, the dragon who will change the world forever.

Long before the SandWing war, lifetimes before the Dragonet Prophecy... darkness is born.
This book was sent to Compass Book Ratings for review by Scholastic Press (A Scholastic Imprint)
Darkstalker (Wings of Fire: Legends)
by Tui T Sutherland
Overall Review:
Author Tui T. Sutherland is the New York Times Bestselling Author of the Wings of Fire series. Darkstalker is actually a prequel to that series and per the author's website was an unplanned book that she felt compelled to write before continuing with her current writing projects. It is intended as a stand-alone and tells the backstory of the character Darkstalker.
As any fantasy book worth its salt, it has a crackerjack map at the beginning to orient the reader. It also has a guide to the dragons of Pyrrhia, which is extremely helpful and precludes the need for a lot of history and backstory to be written into the narrative; this guide is particularly beneficial if this is the reader's first excursion into this fantasy world.
The point of view shifts from character to character, and the author even reveals the characters' thoughts. This book is anthropomorphic: the dragons all have human characteristics and emotions and their society resembles human society with governments, schools, and such. Stylistically, the dialogue is casual and feels much like that of a modern-day middle schooler.
This is a book that started somewhat slowly, but gained momentum and by the end it was intriguing and the resolution unforeseen (at least to a reader who hasn't read the Wings of Fire series). I am certain fans will love the origin story and this book might appeal to fans of the Warriors and Redwall series.
Content Analysis:
Profanity/Language: None
Violence/Gore: (Note: All characters are dragons.) Character kills bird with magic; a few times in book characters hunt/kill animals for food, non-descriptive; general talk about ware; verbal threats; character tells how magic cut off the claws of a relative; character slits throat of a family member and uses magic to massacre others with knives, spears, blood mentioned (incident referred to throughout the book); character cuts self to draw blood to make an oath; visions of future in which violent deaths are seen, characters are standing over body with blood on claws (non-descriptive, brief); threat with a weapon; threatening thoughts; tackled to protect; implied that magic was used to harm a character; character led away by magic, fate unknown; character discusses was to destroy other characters using examples of magic; assassination attempt with a spear; character killed (brief); knife enchanted to stab foot, blood mentioned; character uses magic to force a family member to cut out tongue with claws and use talons to rip out stomach until dead, no description; reading about spells that harmed others; character imprisoned.
Sex/Nudity: (Note: All characters are dragons.) Throughout the book there are several instances of feelings of romance between characters (feeling affection, thoughts and references to marriage, etc.); characters confess they love each other; several instances throughout the book where characters touch heads, shoulders, wings, etc.
Mature Subject Matter:
Death, death of a family member, politics, domestic conflict, breaking and entering, war, murder, prophecies.
Alcohol / Drug Use:
None
Reviewed By Cindy