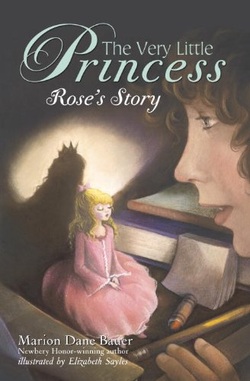 Publisher's Note:
In a classic storyteller's voice, Newbery Honor recipient Marion Dane Bauer tells a tale of friendship, family, and fitting in that recalls The Doll People, Rumer Godden, and Hitty, Her First Hundred Years.

Rose is a wild child. She doesn't care what her mother or teacher or schoolmates say—she does what she wants. When she finds a delicate china doll in the attic, she takes it. Then the doll comes to life in her hand. She's loud, obnoxious, selfishly bossy, and claims that she's a princess and Rose is her servant. But she's also tiny and fragile. She needs Rose to keep her safe. And maybe Rose needs Princess Regina, too.
This book was sent to Compass Book Ratings for review by Random House Children's Books
The Very Little Princess: Rosea's Story
by Marion Dane Bauer
Overall Review:
The Very Little Princess: Rose's Story is the sweetest little princess story! What little girl doesn't secretly wish she is a princess…or wish that her dolls are real and can talk to her! Of course, Rose doesn't actually wish that—this little princess isn't a sweet and loving doll come to life to help Rose! Instead, 'Princess Regina' is all thorns and prickles, but Rose loves her! They have all sorts of sweet adventures together such as dancing in the moonlight, exploring the woods, and even window shopping! There are times when Rose and the princess don't see eye to eye (well, often, actually) and there are times when Rose becomes forgetful and leaves the princess lying in different places all alone, but they are always reunited. Rose learns some wonderful lessons along the way, and even at the end of this story, we know it's not really The End! This story is sweet and the pictures are lovely. It's perfect for any little girl who loves stories about talking dolls and princesses
Content Analysis:
There is some slightly crude language: a character talks about her behind being sore after a long car ride (and is ashamed after she says the word), and a character says she has a 'dog turd' in her pocket. There is also some name calling—a character is upset at two others who are mean to her, so she calls them 'Dumb' and 'Meanie'. Also, a character is woken up and it says there followed 'a string of what were obviously meant to be swear words' (even though no actual words were mentioned). One character is grumpy and bossy much of the time.

There is no violence, no sexual content, and no mature themes. This is a lovely story to read aloud with your 'princess' or to hand to a young reader.
Mature Subject Matter:
***
Alcohol / Drug Use:
***
Reviewed By Emily