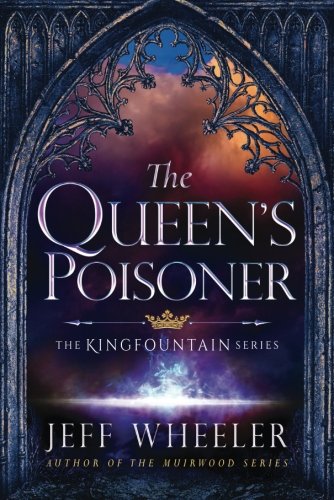 Publisher's Note:
King Severn Argentine's fearsome reputation precedes him: usurper of the throne, killer of rightful heirs, ruthless punisher of traitors. Attempting to depose him, the Duke of Kiskaddon gambles…and loses. Now the duke must atone by handing over his young son, Owen, as the king's hostage. And should his loyalty falter again, the boy will pay with his life.
Seeking allies and eluding Severn's spies, Owen learns to survive in the court of Kingfountain. But when new evidence of his father's betrayal threatens to seal his fate, Owen must win the vengeful king's favor by proving his worth—through extraordinary means. And only one person can aid his desperate cause: a mysterious woman, dwelling in secrecy, who truly wields power over life, death, and destiny.
This book was sent to Compass Book Ratings for review by 47North
The Queen's Poisoner
by Jeff Wheeler
Overall Review:
The Queen's Poisoner, book one of the Kingfountain series, is a fantastic book that was difficult to put down. Author Jeff Wheeler created a fun, medieval world with magic and espionage. Within this world there was a wide variety of diverse characters who were full of surprises. The reader was often trying to guess which of these characters were trustworthy and occasionally saw the best deceivers lose at their own game. My favorite character was Elysabeth Victoria Mortimer, who is Owen's (main character) best friend. She was a little firecracker who inspired nearly everyone she came in contact with, and she had courage that left many in awe. With Owen and his best friend both being eight years old one might expect this to be a book for children, or maybe not that interesting to an older audience; however, Wheeler found a way to make it quite engaging for young adult and adult audiences. At the same time, it could be read without much editing to children as young as eight who would find it interesting. Wheeler provided an unpredictable yet perfect ending. Easily earning five stars, I absolutely loved The Queen's Poisoner and can't wait to read more of the Kingfountain series!
Content Analysis:
Profanity/Language: One incident when a character "swore under his breath" with no further detail given.
Violence/Gore: Many (32) brief incidents including character felt as if needles were stabbing skin; character was concerned about a bridge collapsing, causing death; character jokingly suggests poisoning another character; verbal threats; belief that a character was dead (who was not); characters being worried that they would get killed; references to war; several secondhand reports of death and murder; secondhand report of attempted murder; reference to accidental poisoning of a pregnant character that results in death of character and child; second hand report of character breaking neck but surviving; verbal threat and character punched; character thinks he sees ghosts; characters nearly drown; characters die from drowning.
Sex/Nudity: A few (6) brief incidents including kissing cheek; hugging; characters try to catch another fondling someone (which he does not).
Mature Subject Matter:
Death, murder, war.
Alcohol / Drug Use:
Wine is taken from kitchen to be served with dinner; reference that character drinks; character is drunk and walks funny because of it.
Reviewed By Jenny