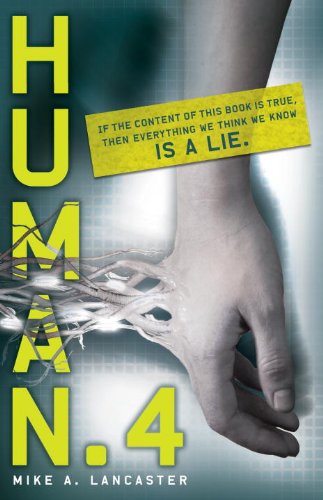 Publisher's Note:
Kyle Straker volunteered to be hypnotized at the annual community talent show, expecting the same old lame amateur acts. But when he wakes up, his world will never be the same. Televisions and computers no longer work, but a strange language streams across their screens. Everyone's behaving oddly. It's as if Kyle doesn't exit.

Is this nightmare a result of the hypnosis? Will Kyle wake up with a snap of fingers to roars of laughter? Or is this something much more sinister?

Narrated on a set of found cassette tapes at an unspecified point in the future, Human.4 is an absolutely chilling look at technology gone too far.
Human .4
by Mike A. Lancaster
Overall Review:
Human .4 was an interesting and fun read. Mike A. Lancaster, the author, writes in the first person from the point of view of a 15-and-a- half-year-old dictating his story in a diary form. The style of writing is laid back and comfortable to read. Although there is very little violence in the story, it does get a little eerie at times and the author has done a wonderful job of using suspense throughout the entire story (but in an age appropriate way). One nugget that stuck with me as a theme for this book: "We want to know that we will leave a footprint when we have passed by, however briefly. We want to be remembered."
The main characters are well defined and easy to relate to. The primary narrative is from Kyle but there is also a female friend who is in much of the book. Having both as principal protagonists makes this book appealing to both guys and girls.
Content Analysis:
Profanity/Language: 2 religious exclamations; 7 mild obscenities; 1 anatomical term.
Violence/Gore: Character jumps from second story window, minor injuries mentioned; characters are hypnotized with disturbing results; all people in small village are turned to statues but still alive; freaky description of hands connected by odd tissue generation; teen girl absorbed into alien process, no blood or death; teens hunted by an unnatural beast that consumes people upon contact.
Sex/Nudity: Mentioned several times is a boy who had a liking for a girl but he gave her up because of social status and continues to like her even though she has a boyfriend, often creating awkward situations; a boy puts his arm around a girl's shoulder in a protective manner but inwardly wishes for a relationship; a brief kiss.
Mature Subject Matter:
Underage smoking and drinking (mention), Guantanamo Bay (prison) and al-Qaeda terrorists, worship of gods and goddesses by children (mention), marital problems, separated parents, social inequality, bullying, evolution, communism, hypnosis, suicidal thoughts (brief mention of by teen girl).
Alcohol / Drug Use:
Brief mention of older kids smoking and binge drinking, no details.
Reviewed By Beth