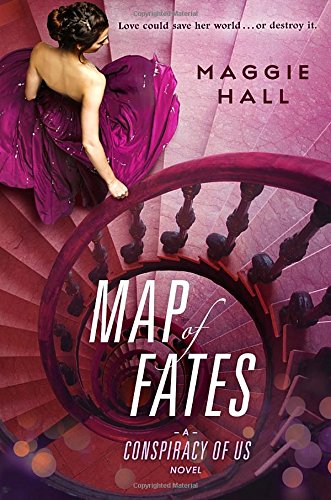 Publisher's Note:
Two weeks.

That's how long it took for Avery West's ordinary life to change forever. In two weeks, she discovered she was heiress to a powerful secret society known as the Circle, learned her mother was taken hostage by the Circle's enemies, and fell for a boy she's not allowed to love, just as she found out another was her unwelcome destiny.

Now Avery crosses oceans in private jets to hunt for clues that will uncover the truth about the Circle, setting her mom and herself free before it's too late. By her side are both the boys: Jack—steady, loyal, and determined to help her even at the expense of his own duty—and Stellan, whose connection to Avery grows stronger by the day, making her question what she believes at every turn.

But at the end of a desperate hunt from the islands of Greece to the red carpet at Cannes comes a discovery that not only changes everything, but could bring the whole world to its knees. And now Avery is forced to face the truth: In the world of the Circle, no one is what they seem.
This book was sent to Compass Book Ratings for review by Penguin
Map of Fates
by Maggie Hall
Overall Review:
Maggie Hall grabs your interest from the very beginning in Map of Fates as she jumps right into the action. The premise: a small group of families from all over the world are tightly connected (almost like royalty or at times, the mafia) and are somehow involved with every important event that occurs worldwide. Maggie creates some great characters who keep you guessing because you're never quite sure what they'll do or whose side they're on. The story reminded me a little of the movie "National Treasure" but the "treasure hunters" were primarily teenagers. While the story is fiction, there are references to historical characters and events which made things even more interesting.
Map of Fates is book two of The Conspiracy of Us series and having not read the first book, it occasionally felt like I'd joined a conversation a bit late when they would make reference to things that occurred in the previous book. Because of that I highly recommend starting with book one, The Conspiracy of Us. However, the book was still really enjoyable and it didn't feel like there was so much missing that it was difficult to understand the story. This isn't really a fantasy novel but there were a few elements that gave it a slight fantasy feel, and the ending made it seem as though the next book might include more. The finale took an unanticipated turn and left the reader with a bit of a cliff-hanger so hopefully the next book in the series gets published quickly. Those who enjoyed Kate Kae Myers's Inherit Midnight or Ally Carter's All Fall Down will also enjoy this fun book.
Review of an Advance Reader's Copy
Content Analysis:
Profanity/Language: 12 religious exclamations; 3 mild obscenities; 1 derogatory name.
Violence/Gore: Many (42) brief incidents including several incidents when character's death is possible; verbal threat; gun pointed at character; several secondhand reports of murder; adult character kidnapped; fight at a bar mentioned; characters see a picture of dismembered bodies; character remembers attempted murder; characters get knocked out; character is bit by another until bleeding; characters hit in head, sustaining non-life threatening injuries; character kneed in crotch; character is branded; character cuts two others who just bleed a bit; character dreams of death; character learns self-defense moves including how to kill; characters shot; knife thrown at character's shoulder; murder by knife; murders from planned plague.
One extended incident of character training with knife including learning how to kill.
Sex/Nudity: Many (48) brief incidents including holding hands; kissing; cuddling; holding arm; touching shoulder, waist and knee; dancing; legs on lap; sat on lap; arm around; several incidents of innuendo; secondhand report of characters watching others having sex; girl wears bra in front of male characters while covering self with arm (non-sexual); reference to homosexual boys; reference to a brothel; female character sleeps in same bed as two male characters (nothing sexual occurs); character gives mouth to mouth CPR type help that turns a bit sexual.
Mature Subject Matter:
Murder, kidnapping, underage drinking.
Alcohol / Drug Use:
Characters drink wine with dinner; characters smoke cigarettes; minors get drunk; reference to people getting drunk; reference to chain smoking.
Reviewed By Jenny