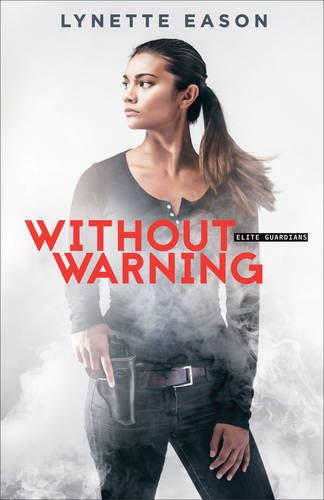 Publisher's Note:
Taut Writing and Breakneck Pacing That Will Keep Readers Up All Night

Katie Singleton, a partner with the Elite Guardians Protection Agency, stumbles upon her next assignment quite by accident. Spotting blue lights at a familiar restaurant, she stops to investigate, only to discover that owner Daniel Matthews has become the target of someone who will go to any lengths to put him out of business.

Daniel might be concerned, but he's not convinced that a bodyguard--and a female one at that--is necessary. A new attack and his niece's urgings are enough to make him reconsider. He and Katie must figure out who's behind the intimidation and threats--before a would-be killer strikes again.

Witty dialogue and a simmering attraction will have readers flying through this tension-laced thriller. Eason exercises complete control of her readers' emotions as they race through the pages to discover the truth.
This book was sent to Compass Book Ratings for review by Revell
Without Warning
by Lynette Eason
Overall Review:
Without Warning continues the Elite Guardians series by Lynette Eason. The premise here is quite cool, but perhaps this reviewer is a little biased. Archaeology, aviation, and arson make for plenty of intrigue and excitement. As always, Eason starts the action right away and keeps it going up until the final few chapters.
There are a few questions that were not satisfactorily resolved. One of which is how a character knew the location of certain objects. Nothing more can be said without giving away too much. Another curiosity is exactly how and why a character is involved in the situation. Although these do not seem to be completely resolved, the major plot points were resolved in a satisfying manner.
The lead characters are intriguing and Eason sufficiently builds curiousity so readers are anxious to find out the stories of the other body guards. Another ploy of the author is to keep the reader unsure about who the antagonists really are until the very end. This is quite effective and keeps one's mind jumping back and forth between potential suspects.
This book is also sprinkled with a touch of romance. Intrigue and intense scenes of danger keep readers on edge. Come take to the skies with this novel, or stay grounded and uncover a few artifacts beneath the dirt. Eason draws readers in and only reluctantly releases them at the end.
Review of an Advance Reader's Copy
Content Analysis:
Profanity/Language: None
Violence/Gore: Character finds a body dangling from a chain; this is referenced many times throughout the story; character is under suspicion for a fake suicide and murder; a person speculates that he might be willing to harm or kill another person; a building is deliberately set on fire and the arson is referenced many times, no fatalities; character recalls a military assault in which a vehicle explodes and kills the occupants; report of a character's parents being killed in a car accident; multiple scenes in which shots are fired, some include mention of blood and others do not; report that a person slit another's throat; character dreams of children carrying their own body parts, including a headless child; car is crushed by heavy equipment causing injury to occupants; report of a person whose neck was broken resulting in death; report of a picture with a knife in a person's neck; report that a character committed suicide; report that a character detonated a bomb resulting in fatalities; characters are threatened with bombs, some explosions destroy property; characters are struck by various objects resulting in injuries; an aircraft explodes and there are no survivors.
Sex/Nudity: A report that a male grabs a female's bottom without her consent; report that a character had an abortion; non-married characters kiss and embrace.
Mature Subject Matter:
Violent deaths of family members, murder, abortion, post-traumatic stress disorder.
Alcohol / Drug Use:
There is a report of a drunk driver killing people; a person received a DUI and is going to rehab; an adult consumes vodka.
Reviewed By Susan