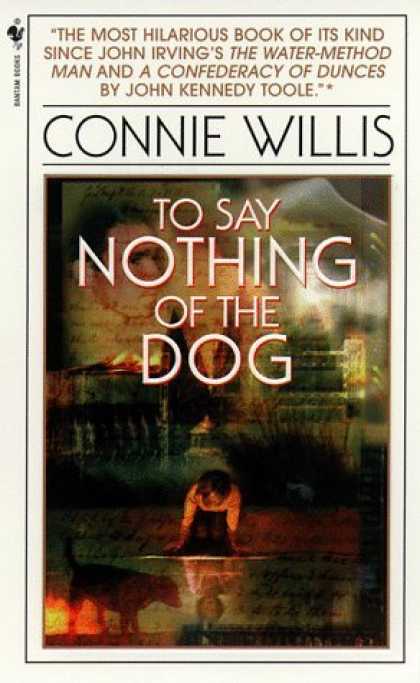 Publisher's Note:
From Connie Willis, winner of multiple Hugo and Nebula Awards, comes a comedic romp through an unpredictable world of mystery, love, and time travel... Ned Henry is badly in need of a rest. He's been shuttling between the 21st century and the 1940s searching for a Victorian atrocity called the bishop's bird stump. It's part of a project to restore the famed Coventry Cathedral, destroyed in a Nazi air raid over a hundred years earlier. But then Verity Kindle, a fellow time traveler, inadvertently brings back something from the past. Now Ned must jump back to the Victorian era to help Verity put things right--not only to save the project but to prevent altering history itself.
To Say Nothing of the Dog
by Connie Willis
Overall Review:
To Say Nothing of the Dog by Connie Willis may technically be a science fiction novel, but it feels more like The Importance of Being Ernest by Oscar Wilde. You don't have to be a die-hard science fiction fan to enjoy this book. (In fact, if you want hard-core science fiction, this isn't it.) Willis is amazing in her incorporation of chaos theory, time travel, English history, and literary knowledge. The true charm of this book is the first-class, dry, understated humor and dialogue. The pacing is even-handed and the conclusion most satisfying. After this book, I will never look at an English bulldog without smiling.
Content Analysis:
Violence is minimal. There is one fairly lengthy scene that occurs during a German bombing of a cathedral in London. Within that scene there are explosions, a fire, and general chaos, but no deaths described.

Mild religious profanity was noted three times.

Sexual content is mostly non-existent as most of the story occurs in Victorian England. One character does kiss another character.

This delightful book has nothing that would be inappropriate for ages younger than 21. However, the pacing and dialogue of the book lend itself to an older, more mature reader who can appreciate its tongue-in-cheek and dry humor.
Mature Subject Matter:
***
Alcohol / Drug Use:
***
Reviewed By Cindy