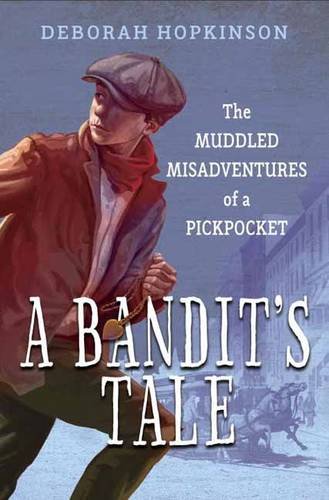 Publisher's Note:
From an award-winning author of historical fiction comes a story of survival, crime, adventure, and horses in the streets of 19th century New York City.

Eleven-year-old Rocco is an Italian immigrant who finds himself alone in New York City after he's sold to a padrone by his poverty-stricken parents. While working as a street musician, he meets the boys of the infamous Bandits' Roost, who teach him the art of pickpocketing. Rocco embraces his new life of crime—he's good at it, and it's more lucrative than banging a triangle on the street corner. But when he meets Meddlin' Mary, a strong-hearted Irish girl who's determined to help the horses of New York City, things begin to change. Rocco begins to reexamine his life—and take his future into his own hands.
This book was sent to Compass Book Ratings for review by the Author
A Bandit's Tale: The Muddled Misadventures of a Pickpocket
by Deborah Hopkinson
Overall Review:
A Bandit's Tale: The Muddled Misadventures of a Pickpocket by Deborah Hopkinson starts off with a teaser and a bang, and it never looks back. The wall is down between the reader and Rocco, the eleven-year-old protagonist; he speaks directly to the reader in first person, confiding and confessing as the narrative unfolds. This style draws the reader quickly into Rocco's world and creates a strong connection. Rocco really is muddled, and he is often making quite poor decisions. However, this feels quite authentic for an eleven-year-old boy making his way on his own without adult guidance, and it takes author grit to make things truly difficult for the protagonist. The charming chapter headings are a bonus.
Any historical fiction worth its salt will have notes included, separating fact from fiction, and A Bandit's Tale has first-rate author notes. There are relevant, wonderful, old photos of New York sprinkled throughout the novel, but it would have been a helpful and welcome addition to have the title of the photo and the photographer included below the photos. (There are photography credits in the notes, but they are difficult to read and inconvenient to flip back and forth to.)
Overall, A Bandit's Tale is an incredibly satisfying addition to middle grade historical fiction. With solid pacing, adventure, and heart, it will appeal to both girl and boy middle school readers.
Content Analysis:
Profanity/Language: None
Violence/Gore: Verbal threats; reports of beating; adult cuffs boy on head; character robbed (and robs others); adult deliberately cuts children on the lip with purpose of scarring them, mention of blood; character falls; character hit with snowball; character injures foot in accident; character is pushed; characters witness the mistreatment of horses; character witnesses horses abandoned to die; character briefly tells how his dog was brutally killed; character is chased; character is tripped.
Sex/Nudity: None
Mature Subject Matter:
Thievery/pickpocketing, poverty/economic disparity, immigration, lying, animal abuse, child slave labor, child neglect, child abuse.
Alcohol / Drug Use:
None
Reviewed By Cindy